According to Statista's research, in 2020, the mobile advertising market reached a record 223 billion dollars worldwide, and according to the latest forecasts, it will reach 339 billion by 2023. The share of mobile devices in digital ad spending worldwide is already 60% and will only increase in the near future! As you can see, the leading advertising efforts are explicitly aimed at mobile devices.
There are simple and logical explanations for this. The effectiveness of advertising on mobile devices is outstanding. Companies still have the opportunity to use different tools, methods, and formats to promote their brands, products, and services through smartphone and tablet users worldwide.
You have probably heard of programmatic advertising, even if you are not a market specialist, a direct seller, or a buyer. It can make your campaigns more profitable, less time-consuming, and more efficient than ever. Why do 82% of buyers & sellers turn to programmatic ads, as Statista has found out? Why should you do the same? Keep reading our article to find out!
What is Programmatic Advertising?
The term itself combines words programs and automatic. Programmatic advertising is a new innovative approach to buying and selling ads online. It involves various software for the automation of advertising management tasks. Many of them are usually entirely mechanical, and algorithms can perform them better than humans.
The range of automatically optimized processes includes operations of selling and buying ads, and a real-time analysis of data concerning user behavior, audience dynamics, and campaign inputs.
In a classic marketing strategy, the marketer will look for relevant websites and advertising formats to find places on the Internet where a specific ad will reach its target audience cost-effectively and in the shortest terms.
The same situation is for publishers who want to earn money monetizing content. Classically, they are finding direct advertisers and Ad partners manually.
Programmatic advertising software acts the same way. The only difference is that it is automated and extremely fast!
Such advertising gives companies the ability to start real-time bidding on ad spaces on a wide variety of sites or apps. For example, a brand can advertise on hundreds of websites within milliseconds using demand-side platforms [DSPs] — all thanks to sophisticated programmatic advertising software and algorithms. These algorithms also collect user data to show ads that cater to their needs. On the other side, publishers can connect to the same advertising ecosystem via the sell-side platforms [SSPs] and start making money simultaneously!
In the following parts of the article, we will also speak more about the terminology, but let's start from the beginning!
History and Benefits of Programmatic
Programmatic ads appeared about 30 years ago, in the early 1990s. Back then, all advertising campaigns used the old way of direct media buying. It involved a lot of human interactions, audience analysis, bidding, and campaign reporting – people from marketing companies did everything manually. And handheld operations always contain mistakes. As you may know, the process took a terrific amount of time, making it inefficient.
The first programmatic banner came from the "You Will" campaign and included a question: "Have you ever clicked your mouse right there?" Its' click-through rate was about 50%, meaning half of the people who saw it got interested.
Compared to direct buying, programmatic advertising turned out to be beneficial in the following ways:
it saves time and eliminates a lot of unnecessary negotiations;
it is budget-friendly due to the variety of ad spots, high-level of optimization, and fewer intermediate commissions;
programmatic advertising brings the possibility of attracting a wider audience and setting specific social, demographic, and behavioral targeting;
better campaign analytics and it can be even real-time!
Every party in the ad deal could put less effort into mechanical tasks, as the specific software automated them. And, unlike custom ads, programmatic ones provide guaranteed impressions, and controlling them is much more possible. In 2022, direct buyers purchased about 82% of web ads via programmatic channels, and this number is promising to increase in 2023.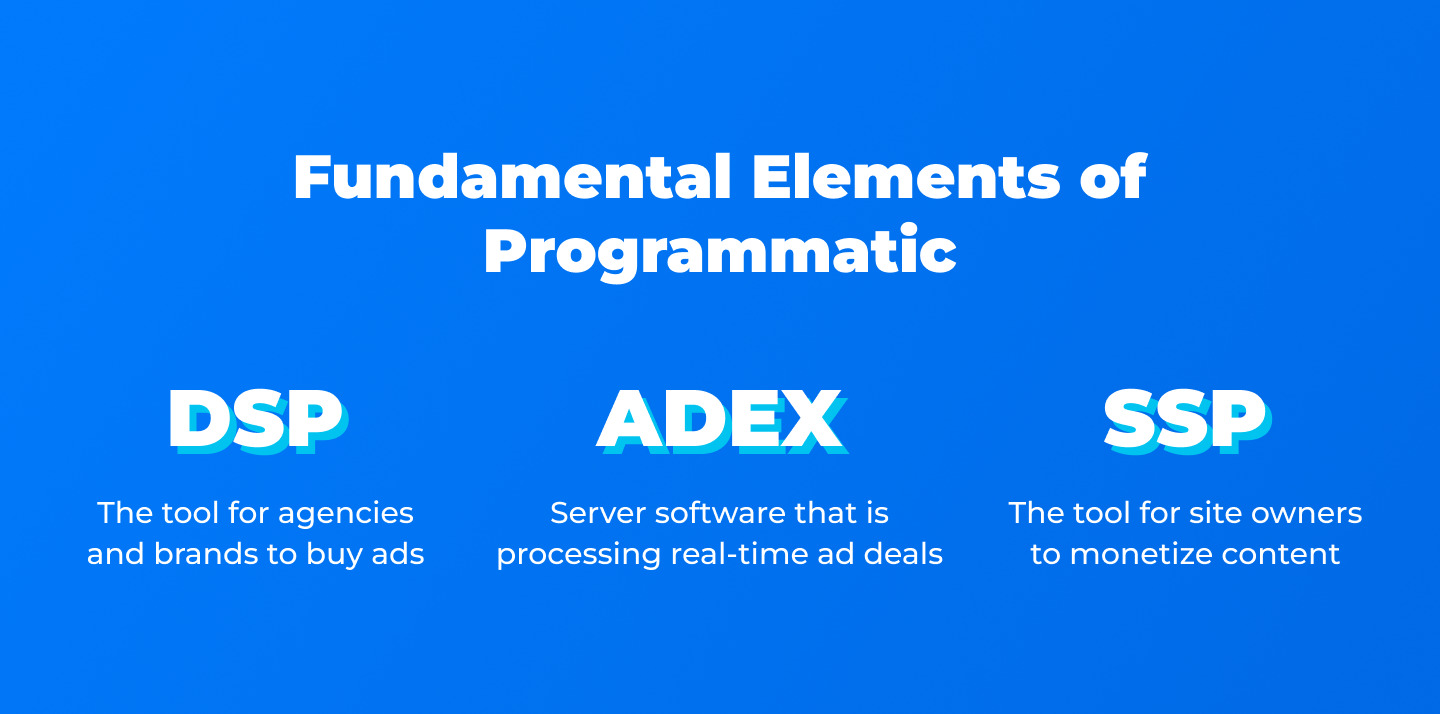 How It Works? 3 Elements of Programmatic World
All programmatic software relies on the same definitions. Let's explain the main of them briefly and introduce the terminology.
DSP, or a demand-side platform, is software used by ad space purchasers. It allows advertisers to automate the process of buying & placing advertising. It can be a self-serve advertising platform, as well as well-known Google Adwords and Bing Ads.
SSP means a supply-side platform or sell-side platform. Another side of the deal uses it. Website or Application owners need this software to organize the ad space on their pages, efficiently sell it, and optimize this process. A popular example is Google Ad Sense.
Ad Exchange is a kind of server that acts as an automated marketplace where advertisers and publishers buy and provide advertising space, i.e. Exchanging.
It is the core of all programmatic advertising, and the magic is happening right here. The algorithms that we were talking about in the first part of the article start doing their job. In less than 300 milliseconds advertisers' DSP sends a request to the Ad Exchange and it chooses the best place to run the buyer's Ad through the hundreds of SSPs with thousands of sites, apps, and streaming services connected to it. After that, the bid response is coming back to an Ad Exchange server.

If all the rules are met, the ad appears and the user can see it. This whole process happens faster than a person blinks!
The last one – DMP, or a data management platform, is software for processing information about an audience and bids. It is responsible for collecting, organizing, and analyzing data. It helps to enhance targeting options for advertisers and optimize the whole advertising process.
Programmatic Ads in 2023
In 2022, the annual programmatic ad spending had grown by 18% worldwide and amounted to $493bn, according to research by Statista. Currently, programmatic advertising is trending and becoming the most efficient marketing solution you can apply if you still don't do it for some reason.
In 2023, marketing experts promise the continuing growth of the programmatic industry. More than 90% of all advertising will be placed via this technology, and more than half use them already, says Ascend2 research. AdTech companies keep developing their algorithms, enabling programmatic software to perform even the most difficult tasks. Programmatic ads are a perfect way to enhance the revenue of your commercial campaigns by making them more straightforward, time-saving, and closer to the right audience.
See how our expertise can help you to earn more
Our tech staff and AdOps are formed by the best AdTech and MarTech industry specialists with 10+ years of proven track record!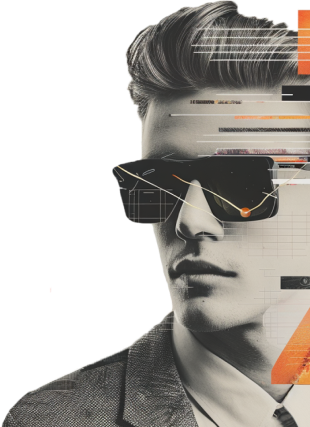 It won't bring you millions in a second, and you still have to work a lot yourself. However, it makes a picture of the marketing strategy clear for your company, allowing you to build better plans and focus on essential tasks that will lead you forward.
If you are interested in programmatic ads, connect with us and we will provide you with the best advertising solution!