In today's world, creating a unique ad tech product from the ground up can be a challenging task. Luckily, white-label software is here to save the day. It offers businesses a cost-effective and time-saving solution for their advertising needs, allowing entrepreneurs and executives to customize existing solutions to fit their goals. This guide will explore white-label ad tech software's benefits and potential drawbacks, helping brands, advertisers, ad networks, and publishers make informed decisions about scaling their businesses in 2023 and beyond.
Definition of "White-label" in the Digital Advertising Field
A store-branded product found in a supermarket is a simple example of a white-label product. For instance, a supermarket might sell a cereal produced by a manufacturer but sell it under the supermarket's brand name. The manufacturer would handle the production of the cereal, but the supermarket would customize the packaging and branding to match their store brand. The result is a cereal that appears to be distributed by the supermarket's brand but is made by a manufacturer.
White-label products are becoming more popular yearly and are already a trend in the ad tech industry. However, this raises a fundamental question. Despite the frenzy, is a white-label a panacea for all problems?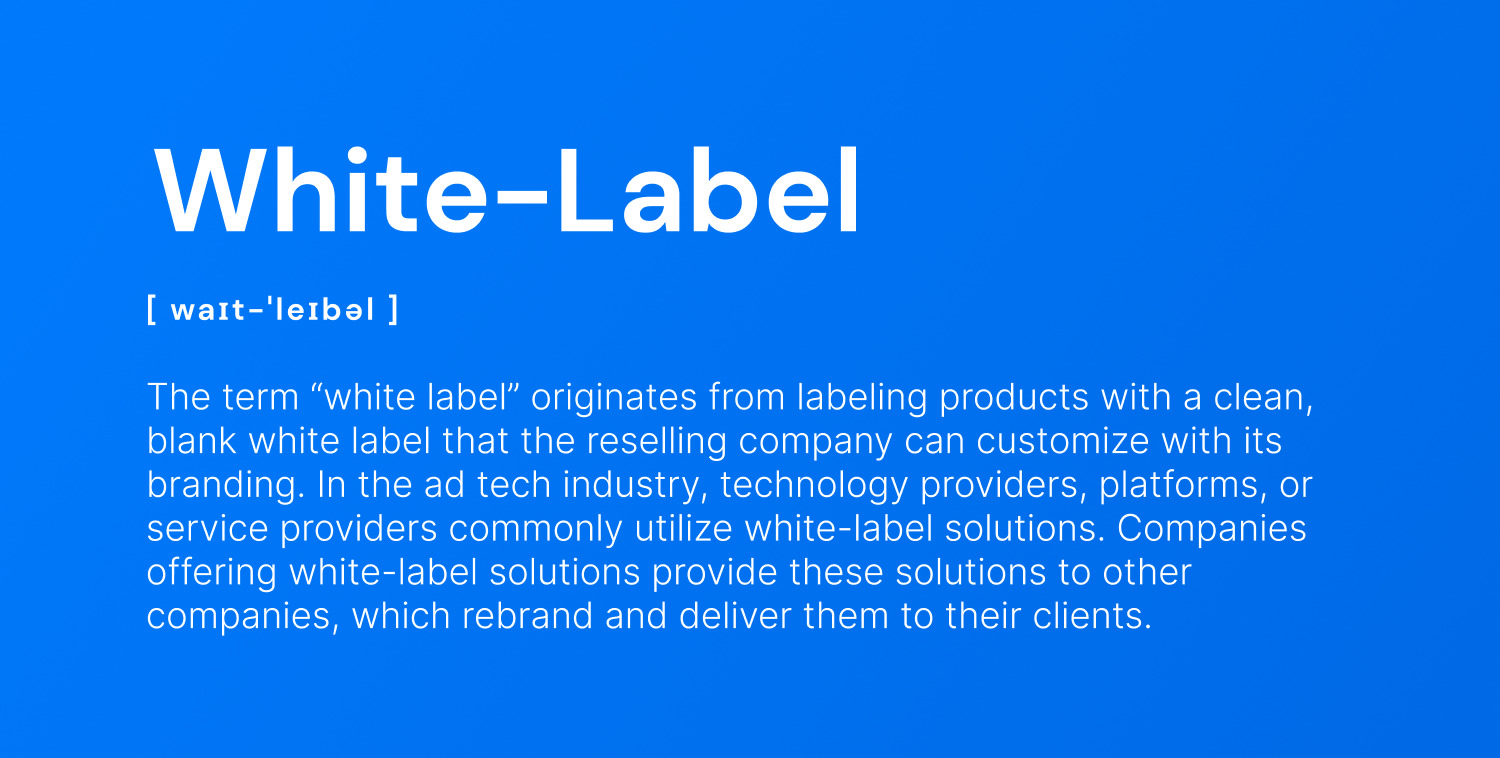 Is White-Label a Win-Win Model for the Ad Market Players Companies?
Following IAB Europe's Attitudes to Programmatic study data, advertisers can lower media costs by 42% using white-label software and improve operational control by 50%. Agencies can enhance their ability to access audience insights by 60% and increase operational control by 42%. Additionally, agencies were allowed to deliver brand campaigns at scale more effectively, and publishers could leverage the opportunity to scale premium ad formats.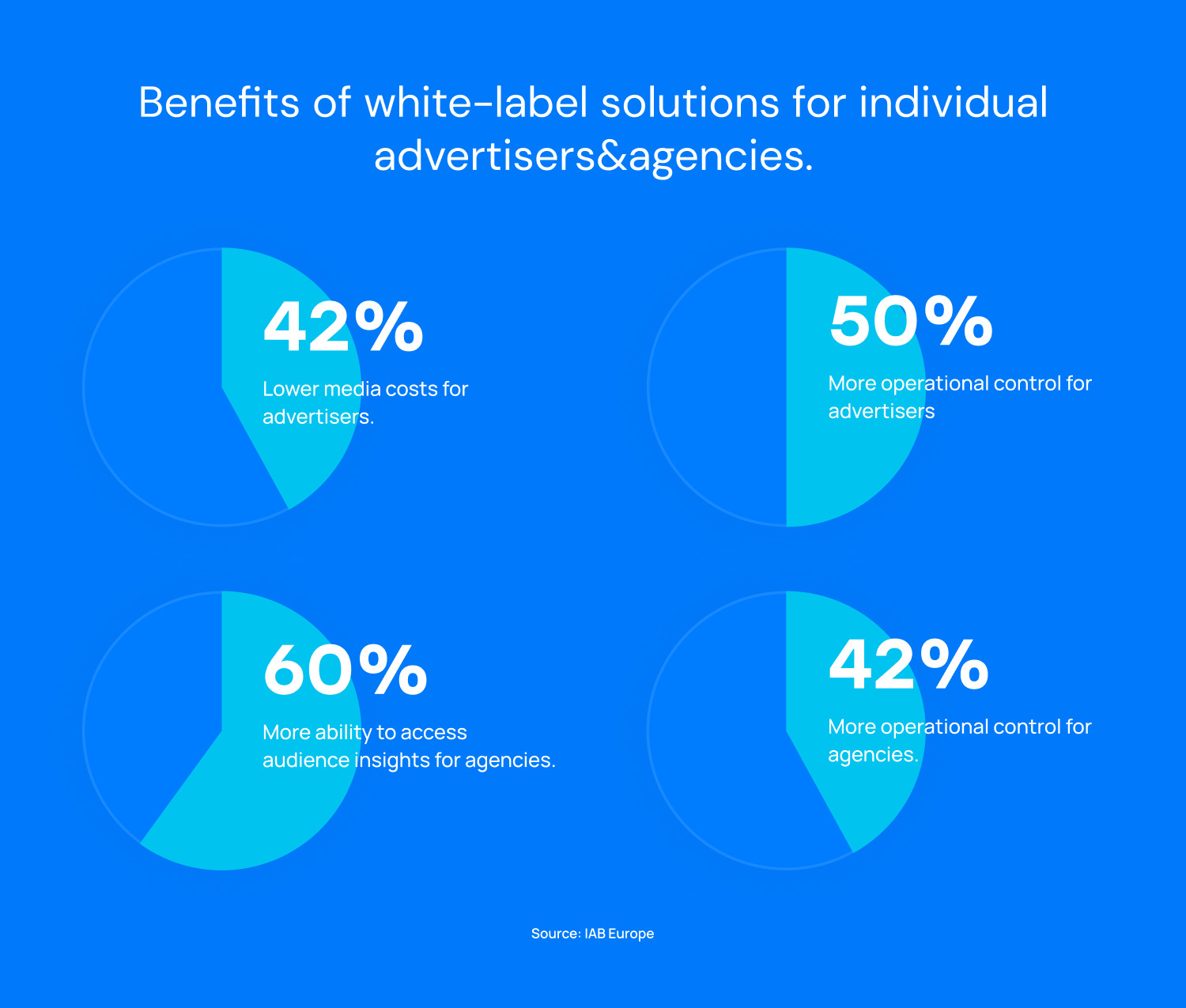 Agencies invest in proprietary programmatic platforms for increased operational control, access to audience data, and the ability to conduct large-scale campaigns effectively. The ability to integrate programmatic technologies into other internal marketing platforms, leading to a deeper understanding of advertising analytics, is another reason enterprises bring programmatic in-house. In contrast, there is a white-label, a popular out-house trend that offers an affordable strategy for companies to acquire already developed, designed, tested, and hosted advertising and marketing products.
Using white-labels, publishers can improve inventory monetization by 63% and gain 35% more transparency and control over operations. The main point of interest in white-label software is its customizable nature. Brands can make products like their own by adding logos, changing the user interface, and utilizing their domain. This level of personalization goes beyond appearances, as companies may create custom integrations and become platform owners. They gain access to the admin panel, allowing them to make necessary adjustments to suit their specific business operations, much like a developer would.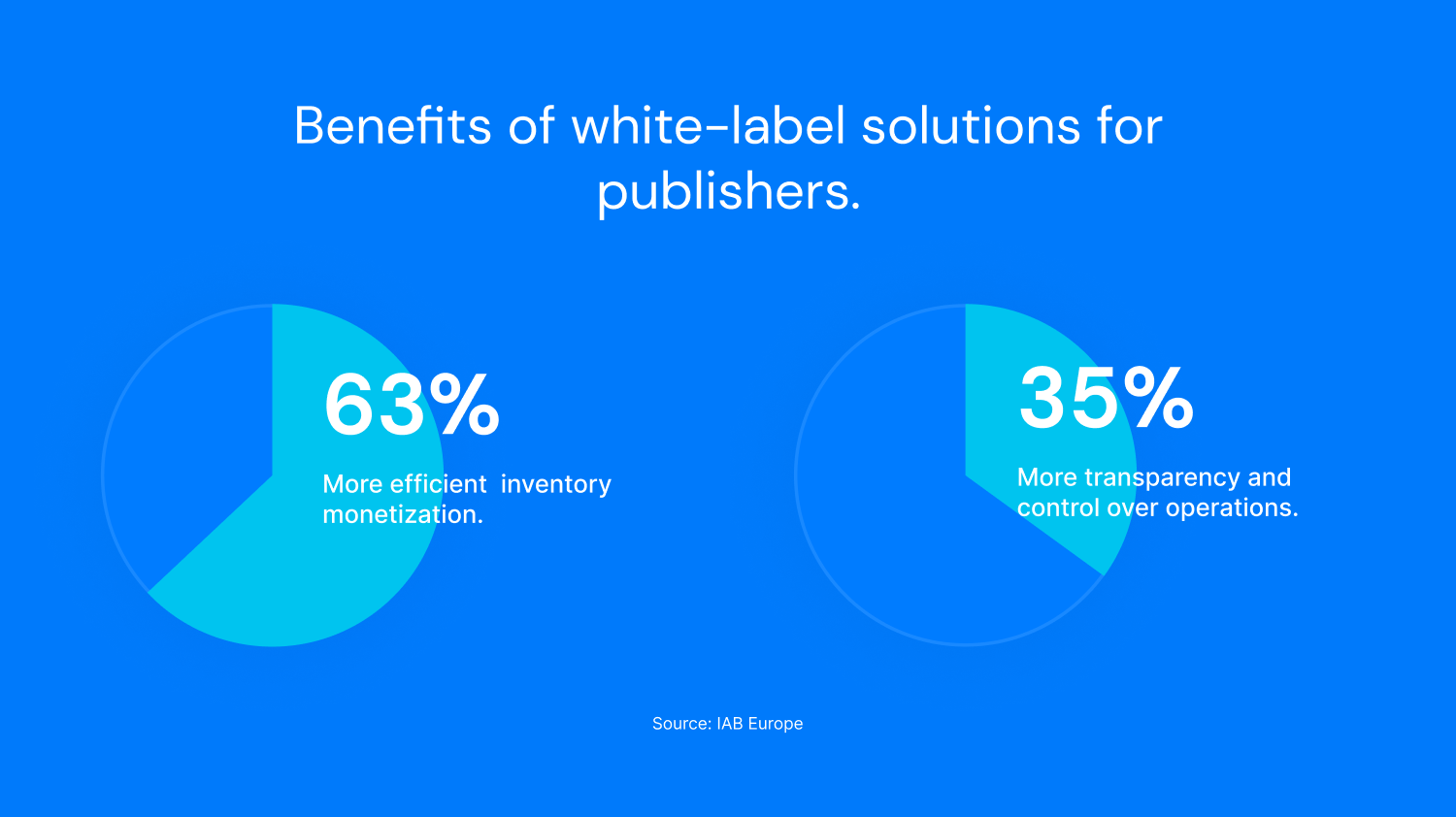 In-house Development vs. SaaS Solution Comparison
Using a white-label solution has several advantages over in-house development. It is cost-effective, eliminating the need for upfront investment in infrastructure and development costs. This strategy enables businesses to concentrate their resources on branding and marketing their product to customers instead of spending millions yearly to raise in-house technology. SaaS solutions also offer faster time-to-market, allowing companies to generate revenue rapidly. Another benefit of white-label solutions is their flexibility, which allows them to be quickly scaled up or down as company requirements change. This flexibility will enable businesses to stay nimble and adjust their offerings to remain competitive. 
The other side of the issue may be that the white-label will not give the companies that buy it absolute control, yet it can be imagined as a lease. That means a third party manages the SaaS service. It is also necessary to always discuss the scalability of their solution with the supplier. You should choose those providers that meet the ambitions of your business and will not stop development in the future due to the lack of scalability of the white-label product.
While in-house development provides complete ultimate control and end-to-end customizability, SaaS solutions offer several advantages, including cost-effectiveness, faster time-to-market, scalability, and the ability to focus on core competencies. Ultimately, using a SaaS solution may provide the most benefits for businesses looking to quickly and efficiently bring their product to market.
Most Common White-Label Products Pros and Cons
We already know white-label products are becoming increasingly popular. Although they provide various advantages, it is also essential to consider the potential disadvantages. Let's now delve into the benefits and drawbacks of SaaS.
White-Label DSP
White-label DSPs provide advertisers a platform to manage digital ad inventory from several ad exchanges or SSPs using a single interface. Agencies seeking to establish their advertising technology stack without building everything from scratch can opt for white-label solutions. Moreover, white-label DSPs save advertisers the significant expense of developing and maintaining an in-house DSP system. This is particularly beneficial for marketing agencies or businesses seeking to efficiently manage multiple clients' campaigns.
By adopting a white-label DSP, advertisers can access many ad exchanges and data sources, making it easier to reach a diverse audience. They can also customize the platform with their branding, allowing for a consistent and professional look and feel across their advertising efforts. This solution will enable you to create separate accounts for different users or customers. Ready-made solutions offered by white-label DSPs empower advertisers to join a broader network of supply sources and seamlessly manage various ad formats.
White-label DSPs have significant advantages: 
Easy to launch.

No more maintenance to concern.

Drive results rapidly.

Branding and customization options.
White-label DSPs also have drawbacks:
Limited system management options.

Risk of functional obsolescence of technology (in case of choosing an unreliable partner).
White-Label SSP
White-label SSP allows publishers to sell their ad inventory to multiple ad exchanges and DSPs through a single interface. For example, a development company with dozens of apps or websites wants to avoid paying fees to ad giants like Google or mediators' margins. White-labeling gives independence and allows customization with branding for proprietary solutions. But one of the main things is that it provides a cost-effective and efficient way to access ad technology without the substantial investment required for an in-house solution. 
White-label SSP offers scalability and flexibility, empowering publishers to tap into a broader network of demand partners and improve monetization. By leveraging a white-label solution, publishers can focus on their content and audience while leaving the technical complexities of ad optimization and real-time bidding to experienced third-party providers.
The advantages of White-label SSPs are: 
Fast implementation speed.

Complete control over advertising resources.

Cost efficiency.

Less fees.

More transparent monetization process.
The drawbacks of White-label SSP include the following:
Limited customization.

Dependency on the third party.

The need to find advertisers on your own.
White-Label AdExchange
A White-label ad exchange is a powerful tool for digital or traffic agencies, helping to connect existing advertisers and traffic suppliers efficiently without intermediaries using out-of-the-box solution. You don't need to build your system from scratch, spending vast amounts of money and valuable time. White-labeling enables customization with the company's branding and design, making it appear like a proprietary solution.
White-label ad exchange allows you to connect all the tools you need – analytics, reporting, traffic checkers, and DMP providing you with valuable insights to optimize ad performance and make data-driven decisions. Ultimately, using a White-label ad exchange can streamline operations, reduce costs, and boost revenue.
Among the apparent advantages of white-label ad exchange is:
The ability to customize the platform with its branding.

Scalability depends on the company's needs.

The possibility to modify the platform up to your needs using third-party software.

Cost and time-savvy solution.
White-label ad exchanges may have cons:
Limitations caused by the platform provider's server capability.

A deep understanding of programmatic advertising is needed to operate ad exchange.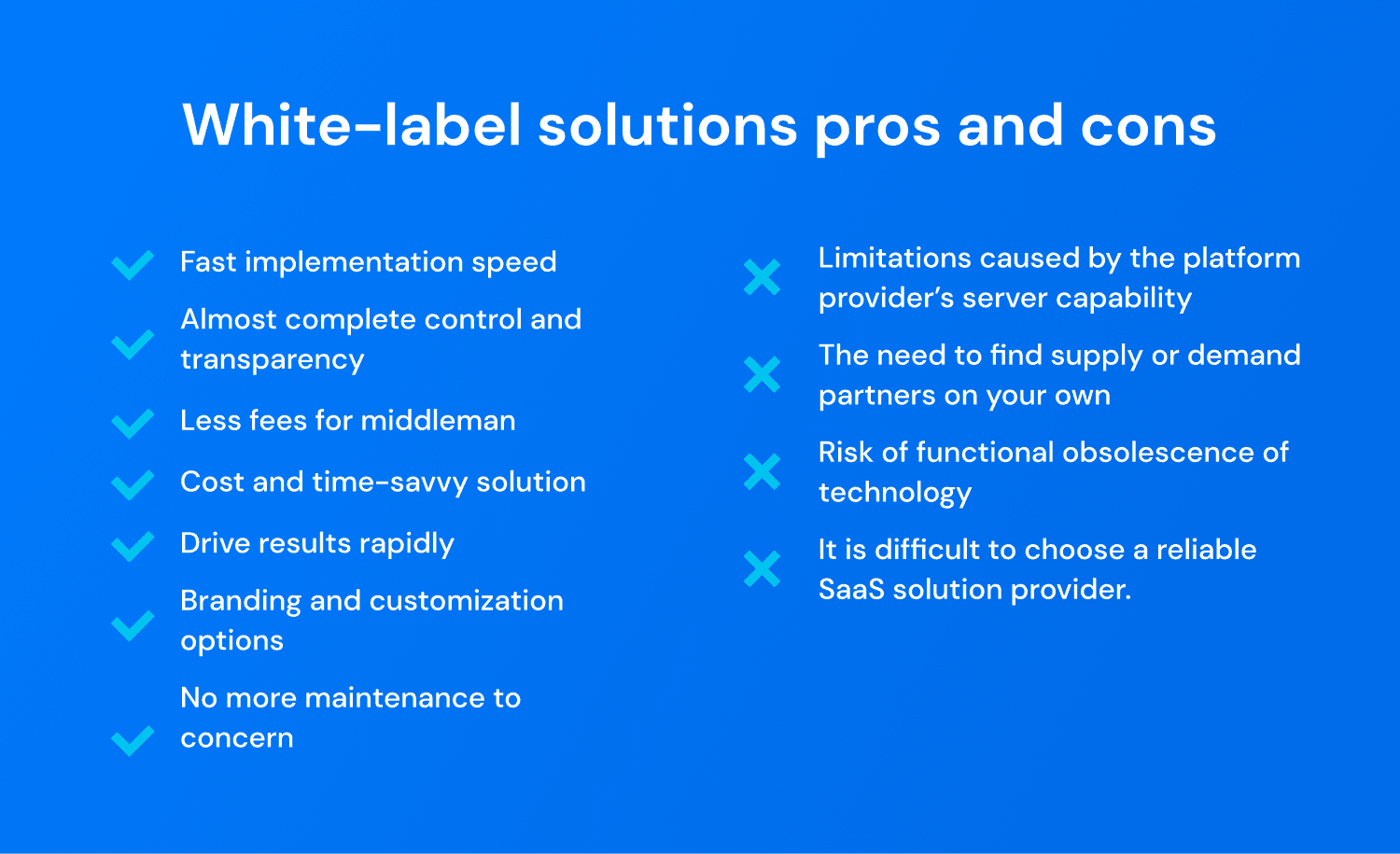 5 Signs That You Might Need a White-Label Solution
So, we have reviewed the advantages and disadvantages of the most common ad tech white-label solutions. So, how do you make the final decision and understand whether you need a white-label?
You need more transparency and fewer middlemen
With a white-label, it's your system where you control almost everything by yourself. This solution will give you the necessary control: no one will fake your reports, and no intermediaries will take a part of your revenue.
You have limited resources
To create an in-house solution for advertising, you need approximately from 500 thousand to 5 million dollars a year and dozens of specialists. Using a white-label can significantly save your budget because you pay a much lower amount for using Saas. The difference in yearly cost can reach up to 100 times.
You want to optimize costs
Gaining complete control, you can optimize all bidding as you wish, reducing the cost of advertising for an advert or, on the contrary, increasing revenue for a publisher. Fine-tuning your settings will help you to achieve your business goals.
You are a freshman in the advertising field
If you are new to the programmatic advertising game, it is better to take your time. Try a white-label solution first. This way, you will have fewer chances to spend much money down the drain.
You need fast results
Companies can bypass the time-consuming process of developing a product from scratch and instead gain access to a ready-made solution that can be customized and branded according to their needs.
How to Set Up White-Label Software?
This part will explore steps in setting up a white-label software solution. Following a few key steps is necessary to ensure a smooth process if you want to set up a white-label software solution for your business.
Find a trusted white-label software provider.

Have a consultation with the supplier's specialists.

Sign a contract.

Provide the necessary data for branding and personalization of the platform.

Get a ready-made platform at your disposal.

Start working and enjoy constant support from the software provider.
How About BidsCube White-Label Solutions?
Anyone using BidsCubes white-label DSP, SSP, or AdExchange can confirm this digital solution's efficiency, cost savings, and reliability. Therefore, one technological solution that provides many advantages can be the key to fixing multiple issues.
See how our expertise can help you to earn more
Our tech staff and AdOps are formed by the best AdTech and MarTech industry specialists with 10+ years of proven track record!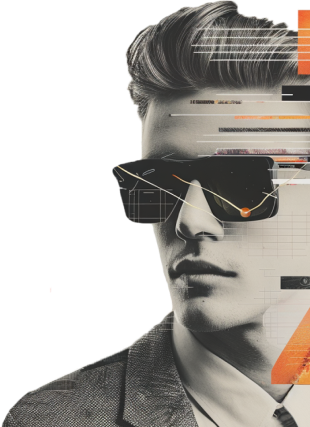 Complete control over data and settings in programmatic trades.

Time and cost savings by avoiding developing a product from scratch.

Convenient and direct work without intermediaries.

Customization of every part of the platform to meet specific needs.

Regular technology updates and improvements.

Efficient and reliable software with no downtime or interruptions.

Proven solutions for maximum profit reliability.

24/7 support throughout the process.
Key Takeaways
White-label software offers a cost-effective, time-saving solution for customizing existing products and services under a company's brand.

The advantages of white-label products include customization, operational control, access to audience insights, and improved inventory monetization.

When considering white-label solutions, it is essential to assess potential drawbacks.

SaaS solutions provide benefits such as cost-effectiveness, faster time-to-market, scalability, and the ability to focus on core competencies compared to in-house development.

White-label DSP and SSP platforms offer customization, control, and revenue generation advantages.

Companies can benefit from white-label solutions by providing quality services without developing their software.
This Article's Ad Tech terms