Navigating the ocean of marketing requires a constant pulse on the latest trends, strategies, and technologies. As we prepare for the final quarter of 2023, an array of captivating marketing conferences is ready to take the stage, promising to become a melting pot of insights and innovations. Professionals spanning the vast spectrum of advertising are preparing to converge at these forthcoming events, united by a common goal: to unravel the intricacies of modern marketing. Each forum features a unique agenda, esteemed speakers, and ample networking opportunities, setting the stage for a season of immersive learning, meaningful connections, and a comprehensive update on the forefront of marketing. As the Q4 curtain rises, let's delve into what these imminent marketing gatherings have in store and why they are unmissable milestones for anyone looking to stay ahead in the dynamic marketing world.
Top Advertising Events Q4 2023
October 2023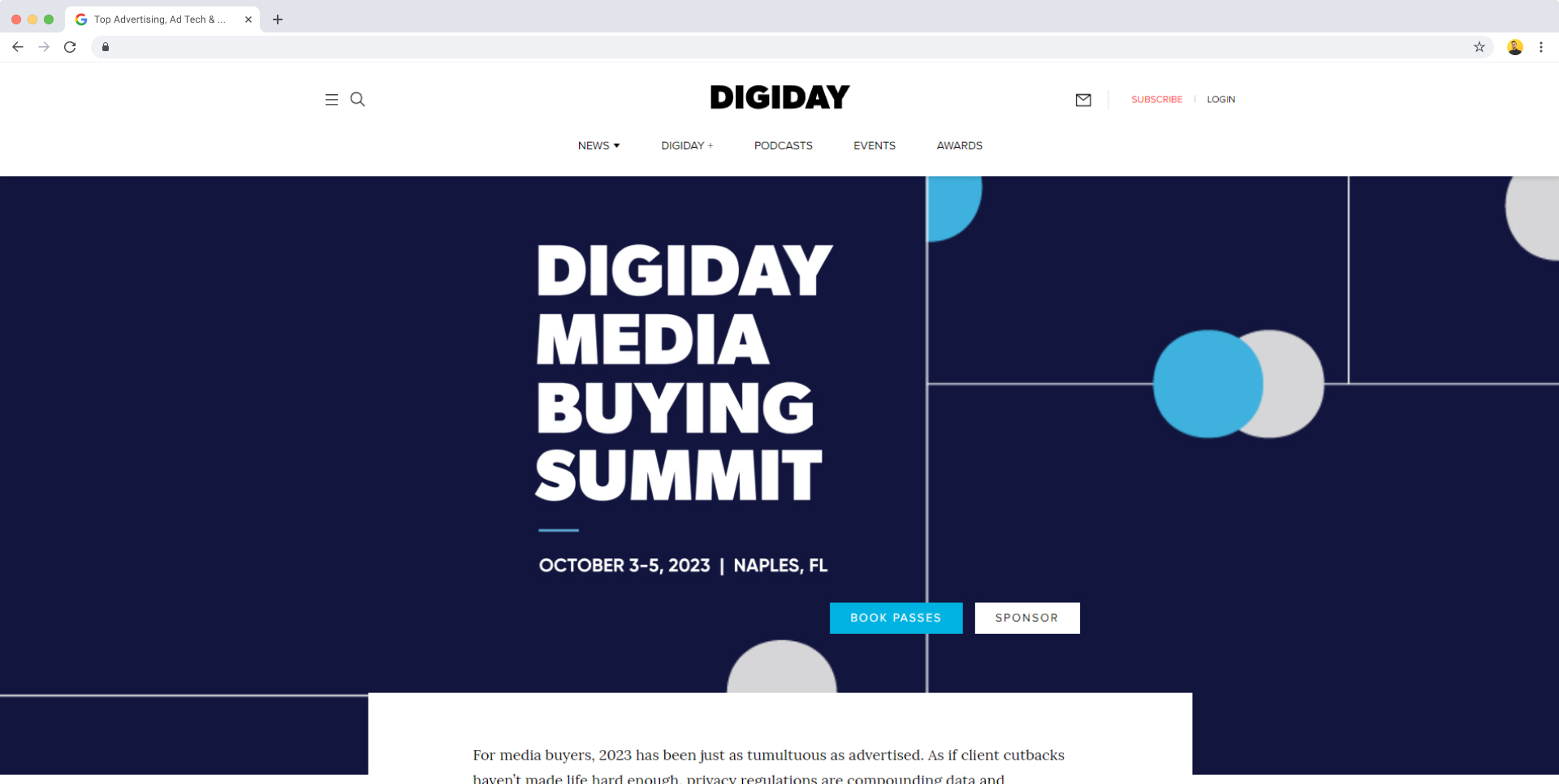 Digiday Media Buying Summit
The Digiday Media Buying Summit is where media buying executives gather to discuss opportunities, pitch solutions, and make valuable business connections. The summit includes mainstage sessions and networking, allowing leaders to connect with decision-makers and bring new ideas and values to the industry.
Date: October 3-5
Location: Naples, FL
---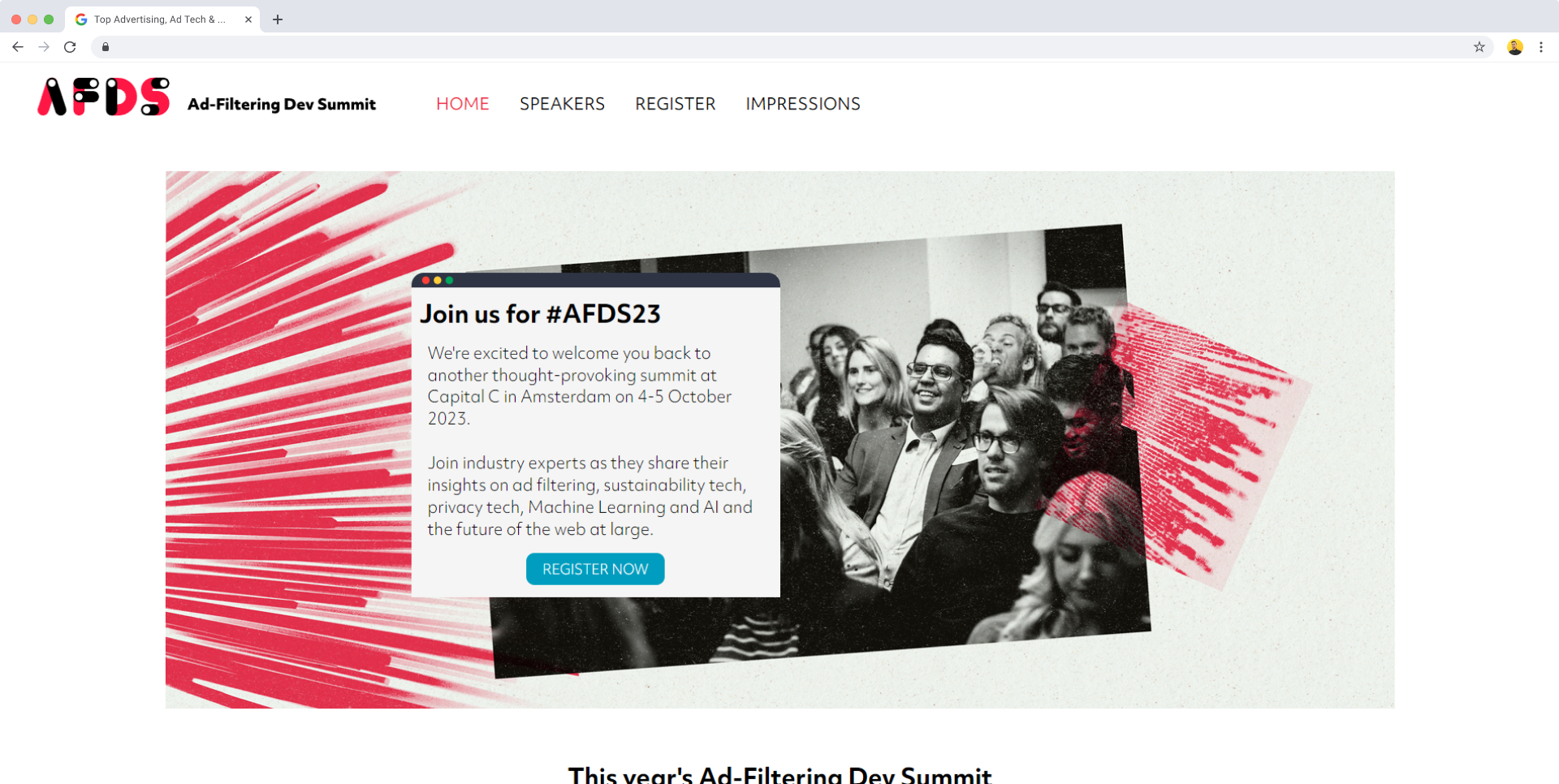 Ad-Filtering Dev Summit
Discover the forefront of ad filtering and the evolving online landscape of today's digital era. Immerse yourself in discussions about the future of ad filtering and the web, spanning topics from machine learning and AI to digital privacy and strategies for fostering sustainability through technology. It's an opportunity to stay informed and actively shape the trajectory of digital innovation in a rapidly evolving digital world.
Date: October 4-5
Location: Amsterdam and virtual
---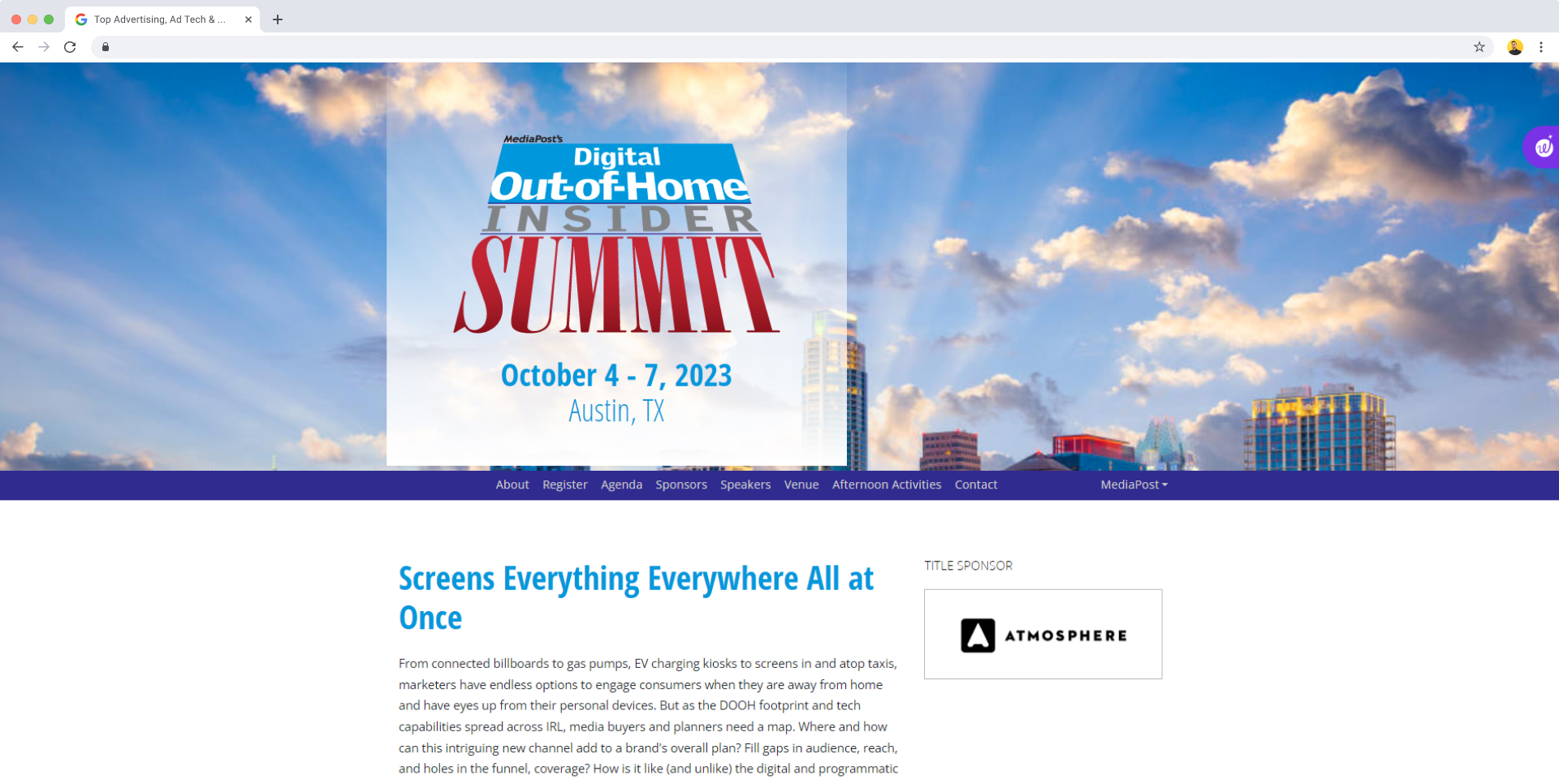 Digital Out of Home Insider Summit
At embarking on the second MediaPost Digital Out of Home Insider Summit, event organizers gathered this dynamic field's trailblazers. Here, early adopters unite to exchange invaluable learnings, share compelling case studies, and offer insights that illuminate the role of DOOH in today's media landscape.
Date: October 4-7
Location: Austin, TX
---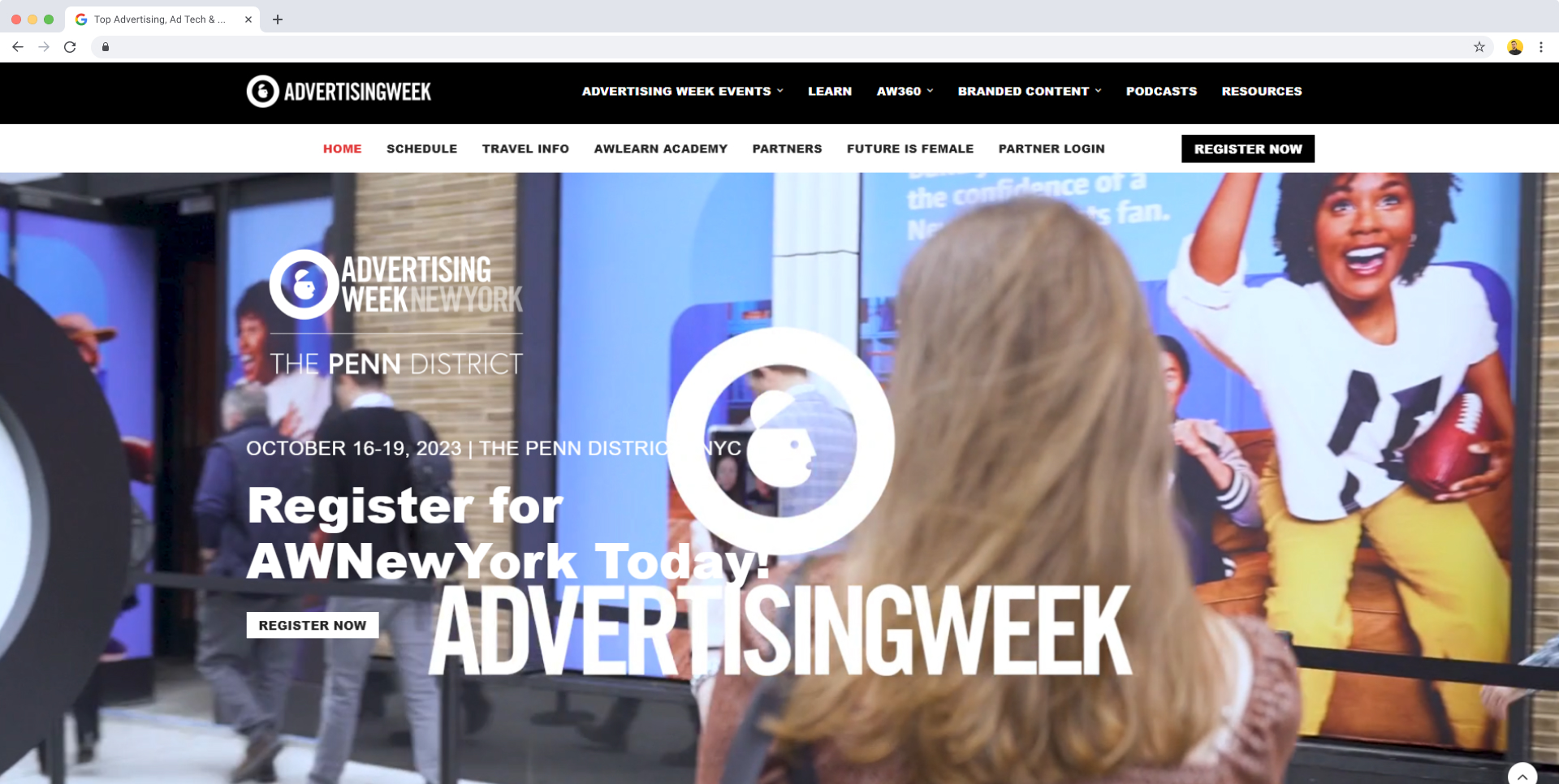 Advertising Week New York
Step into the vibrant world of Advertising Week New York, where the most brilliant minds converge in marketing, advertising, media, and technology. Their immersive and interactive program promises attendees a journey through insights shared by industry leaders, the discovery of emerging trends, and the opportunity to connect with professionals from across the globe.
Date: October 16-19
Location: The Penn District, NYC
---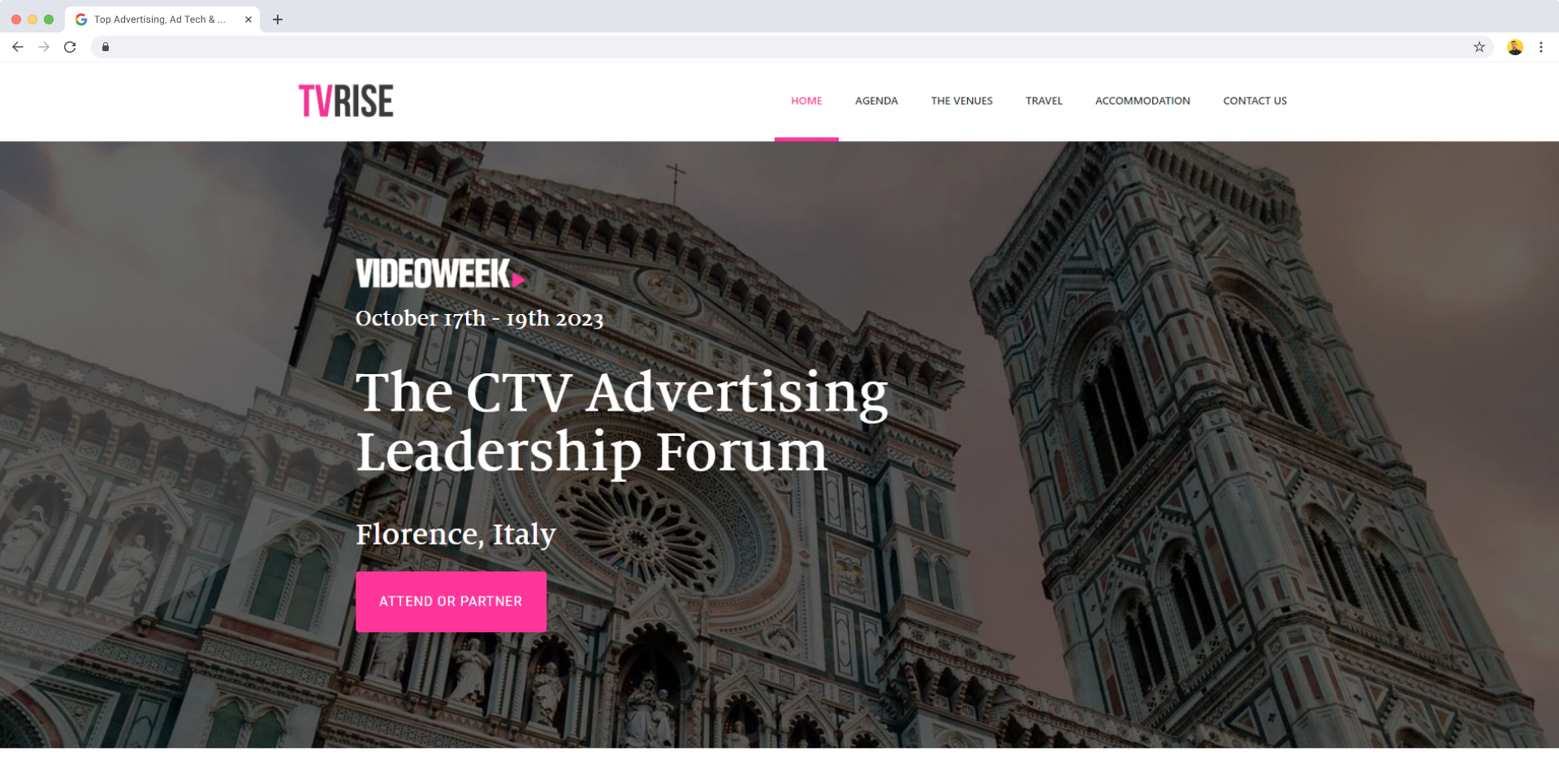 The CTV Advertising Leadership Forum
TV Rise is not your typical event but a carefully curated, intimate gathering spanning three enlightening days, tailored exclusively for the titans of CTV advertising. TV Rise meticulously crafts the format to convene and actively drive tangible business outcomes and foster robust relationships among key global players.
Date: October 17-19
Location: Florence, Italy
---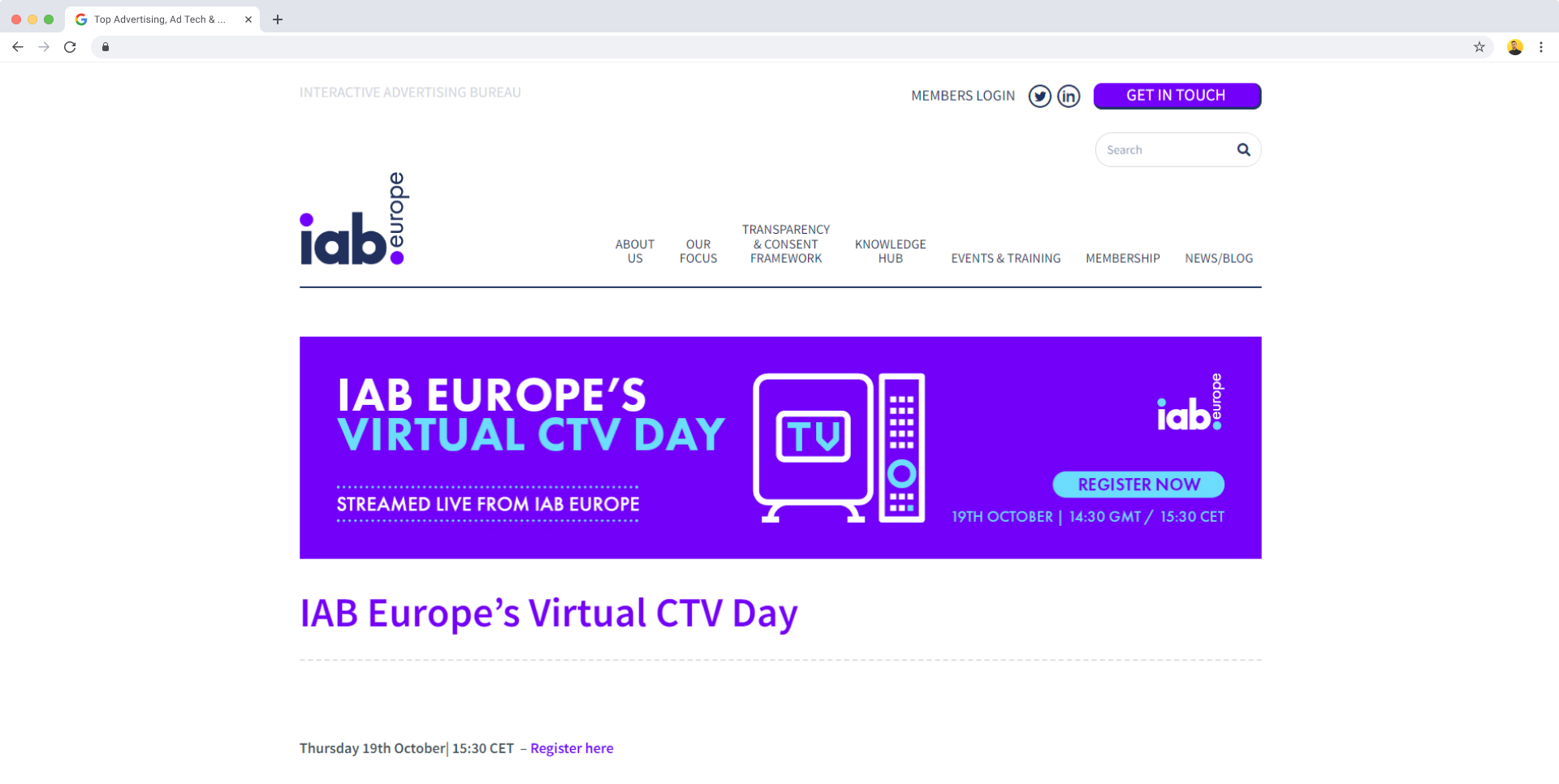 IAB Europe's Virtual CTV Day
CTV Day Event is a captivating series of panel discussions and in-depth market explorations dedicated to the dynamic realm of Connected TV (CTV). From the latest research findings on CTV in Europe to unraveling the intricacies of the supply chain and measurement metrics, this event is meticulously designed to keep you well-informed about all facets of CTV in 2023 and beyond.
Date: October 19
Location: Virtual
---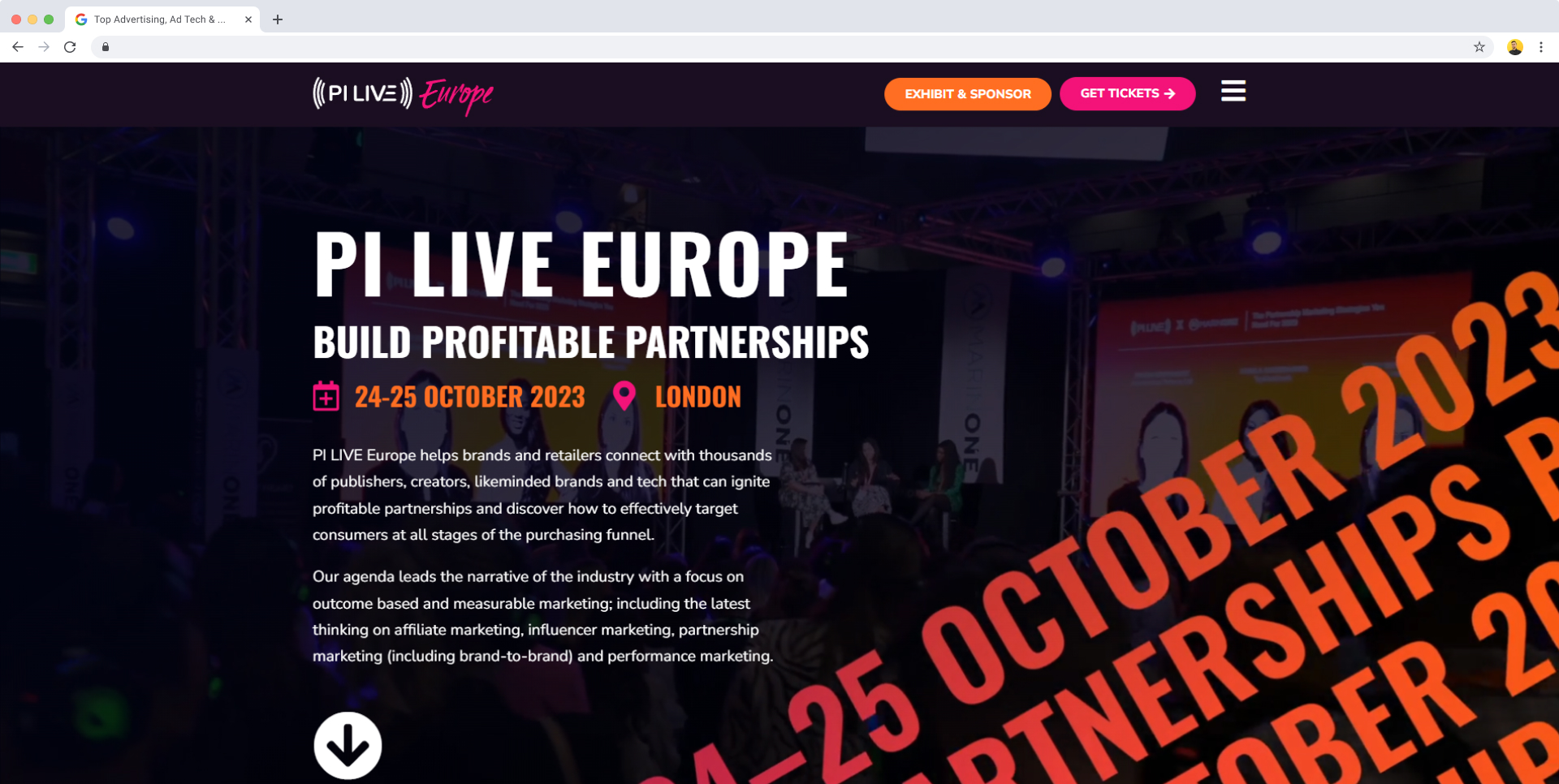 PI Live Europe
PI LIVE Europe is your gateway to an expansive network of opportunities, bringing brands and retailers together with a vibrant community of publishers, creators, like-minded brands, and cutting-edge tech innovators. Here, you'll unlock the potential for profitable partnerships and gain insights on effectively reaching consumers at every stage of their purchasing journey.
Date: October 24-25
Location: London
November 2023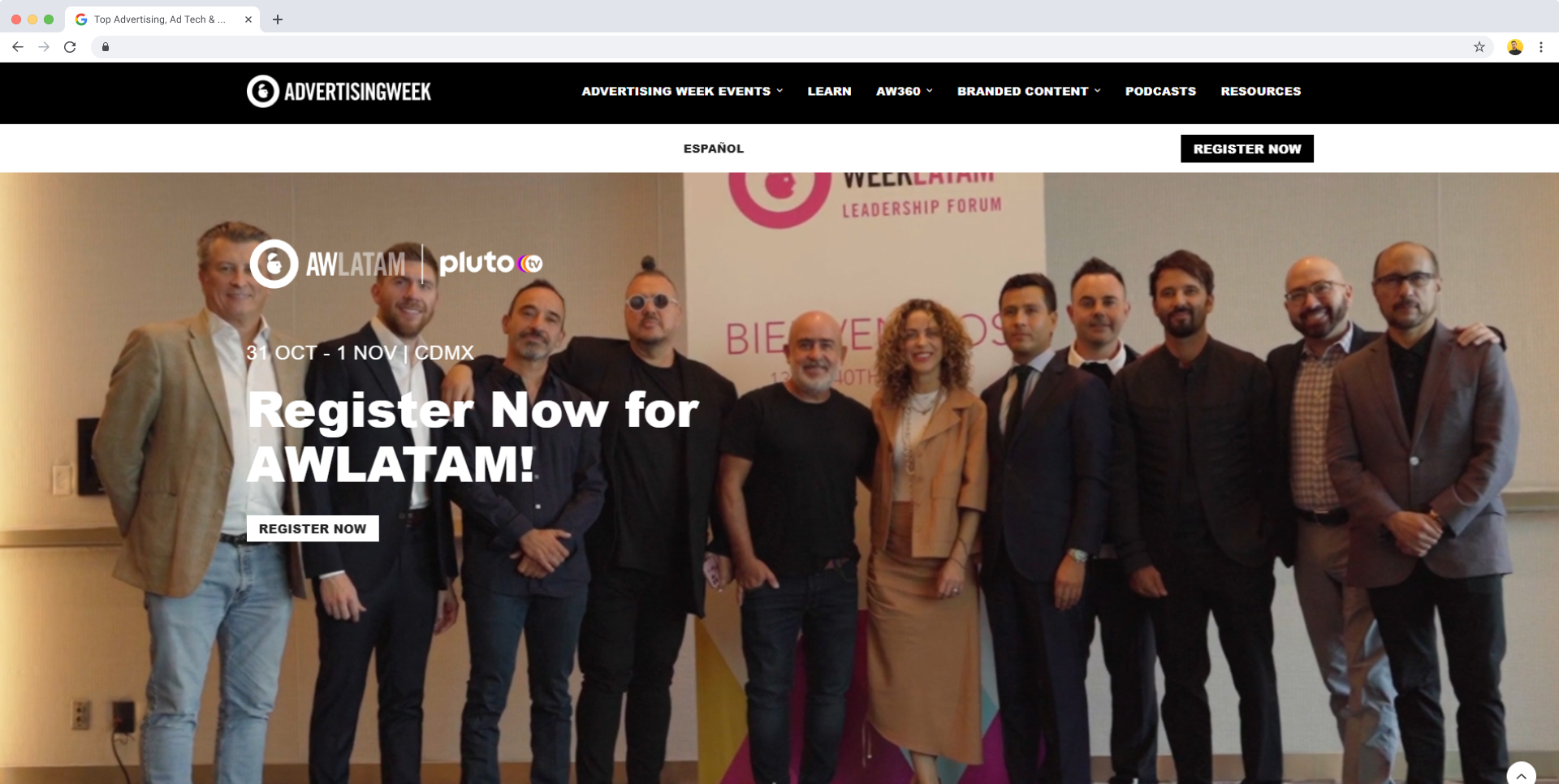 Advertising Week LATAM
Prepare to witness the convergence of the brightest intellects hailing from brands, agencies, media, and technology, along with influential figures from the expansive realm of pop culture. Once more, they will assemble from across the vibrant LATAM region and beyond to engage with the pivotal matters currently reshaping the advertising industry.
Date: October 31 – November 1
Location: Mexico City
---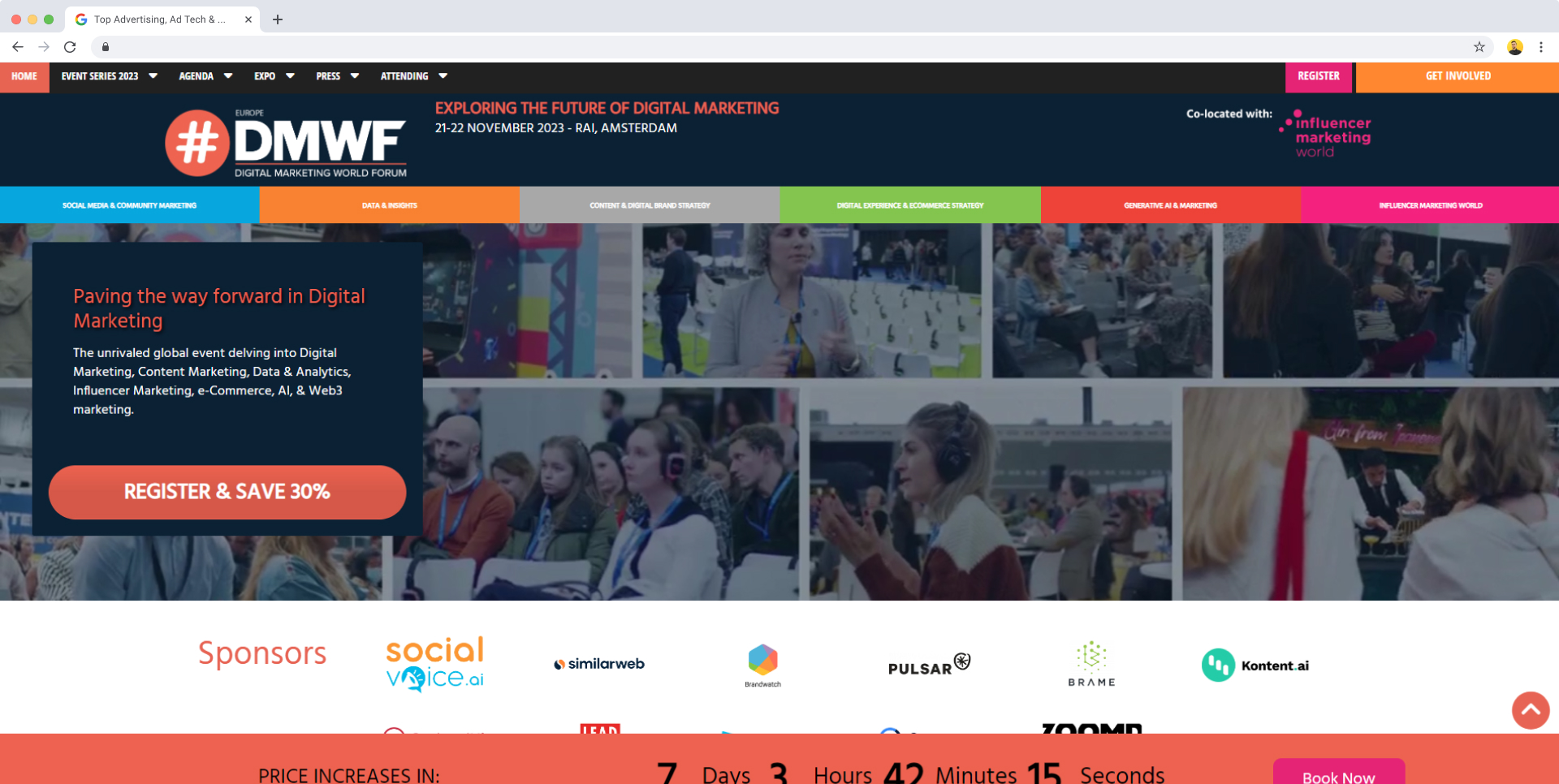 DMWF Europe
Welcome to an unparalleled global event, a journey that immerses you in Digital Marketing, Content Marketing, Data and analytics, Influencer Marketing, e-commerce, AI, and the captivating world of Web3 marketing. Here, you'll explore the frontiers of innovation, gain insights from the finest minds in the industry, and chart a course toward a future where marketing knows no bounds.
Date: November 21-22
Location: Rai, Amsterdam
December 2023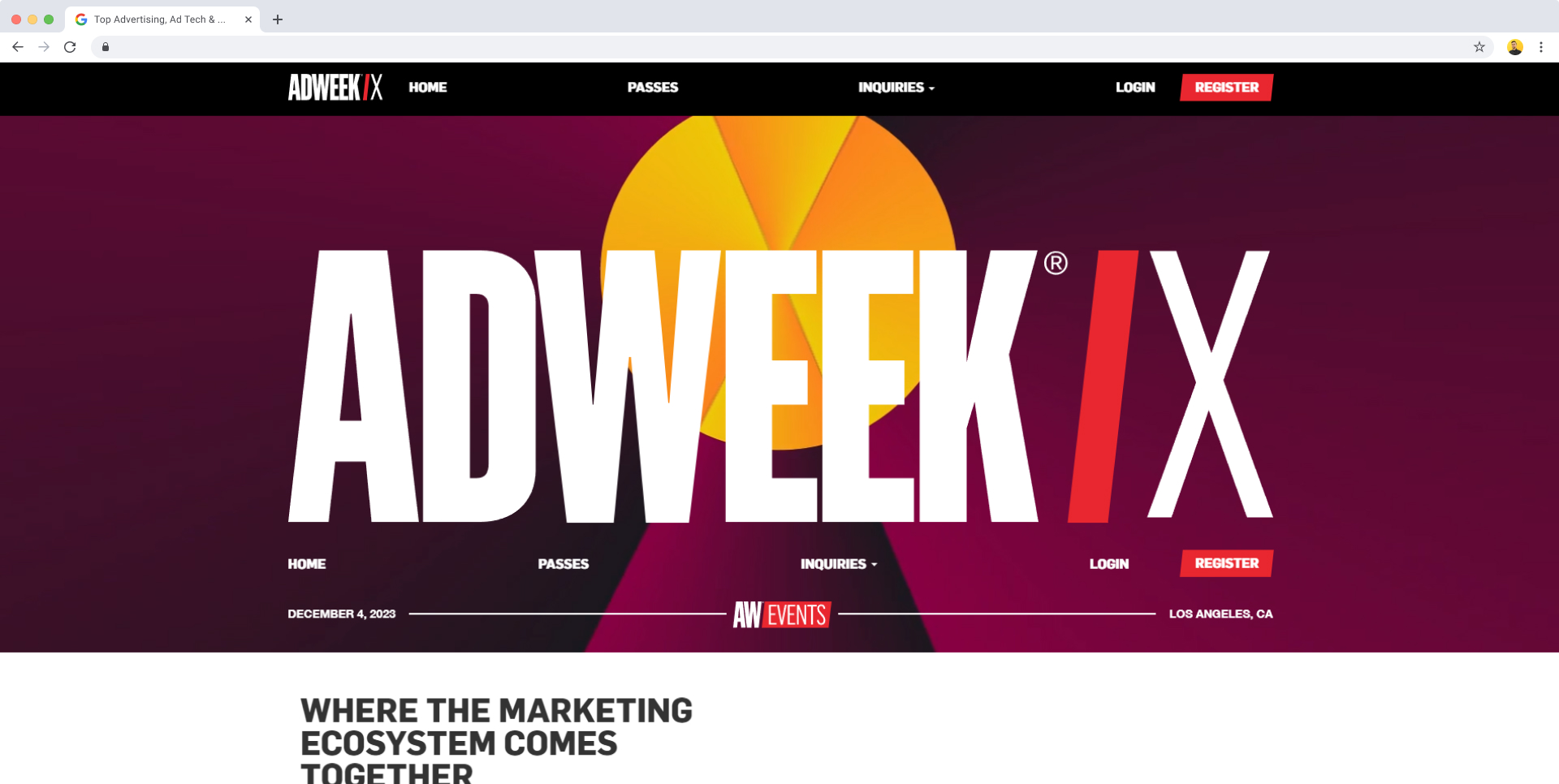 Adweek X
Adweek X brings together diverse teams, leadership figures, and strategic thinkers. This event offers a platform for exchanging perspectives and priorities regarding how brands, businesses, and the world can chart a successful path forward. It represents a unique opportunity to embrace new and diverse ideas, shatter silos, and achieve tremendous success through collaboration.
Date: December 4
Location: Los Angeles, CA
Top Marketing Events Q4 2023
October 2023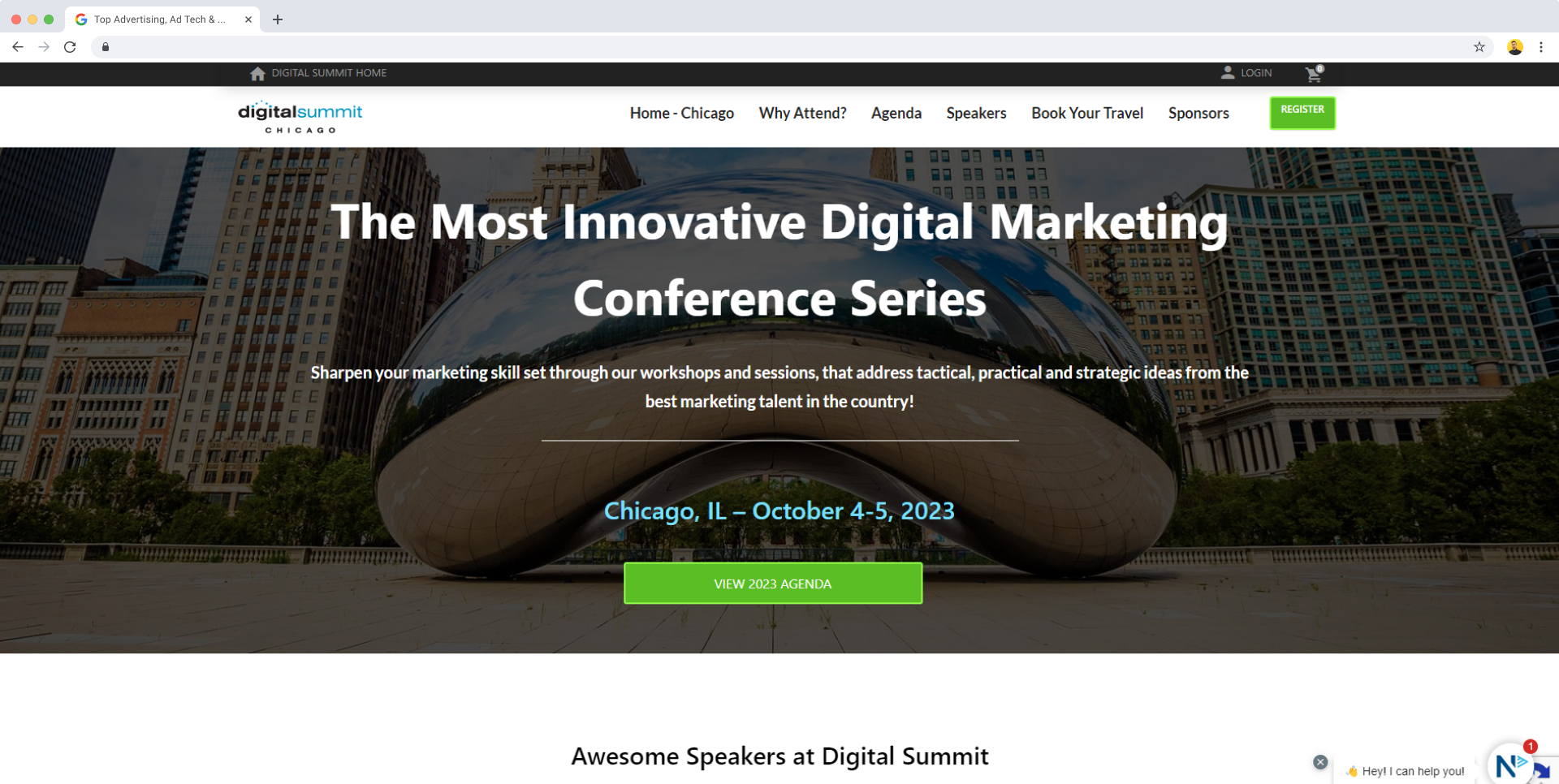 Digital Summit Chicago
Hone your marketing prowess at Digital Summit Chicago. The event's workshops and sessions are a treasure trove of tactical, practical, and strategic insights curated by some of the brightest marketing minds in the nation. It's a golden opportunity to refine your skills, expand your knowledge, and remain at the forefront of marketing excellence.
Date: October 4-5
Location: Chicago, IL
---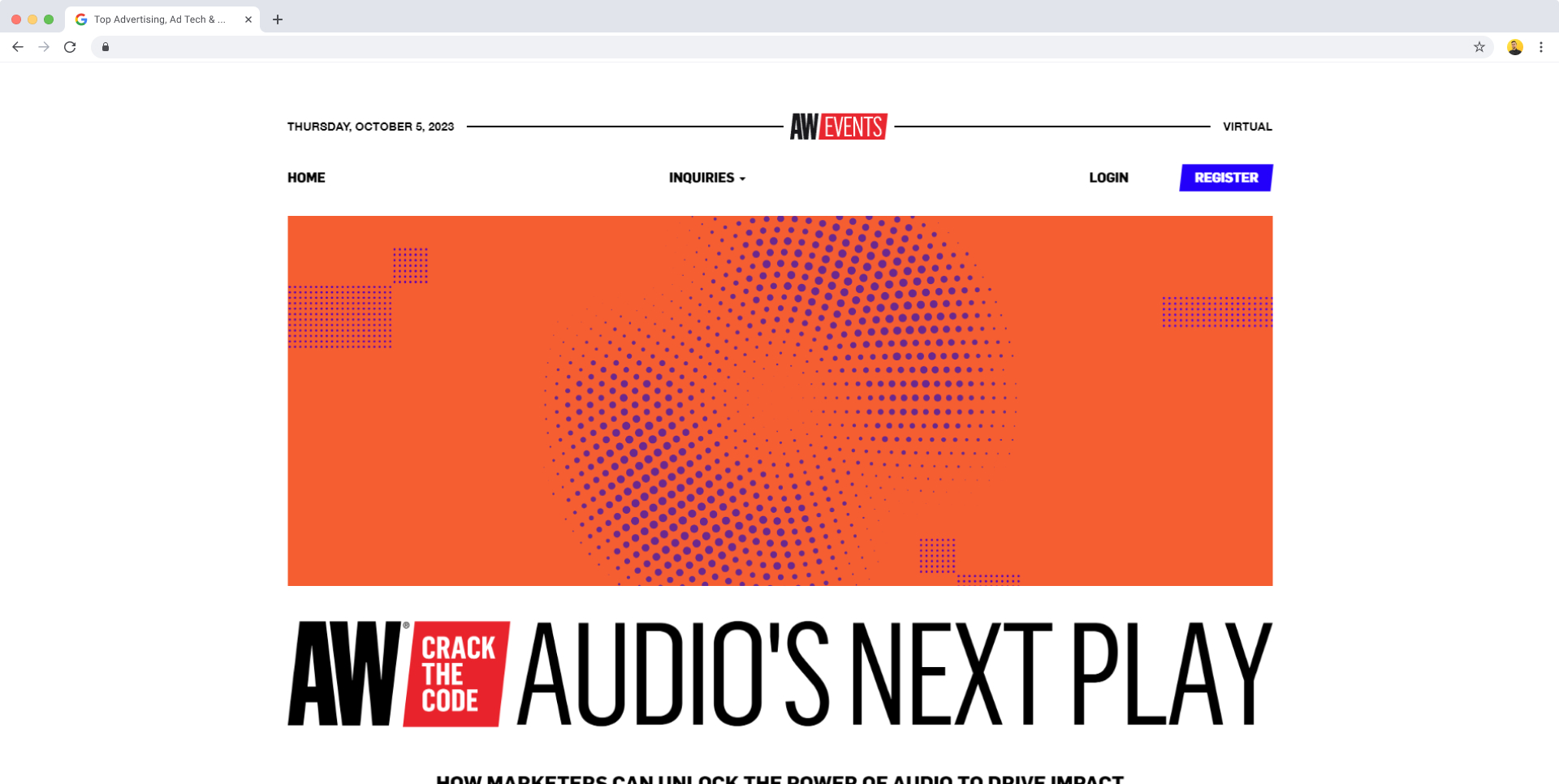 Crack the Code Audio Next Play
Attendees of Adweek's Crack the Code Virtual Series can expect a deep dive into actionable insights, where the company will unveil strategies for capitalizing on these innovations to produce top-notch content for its audience. This event will feature insights from accomplished marketers who have successfully mastered the art of audio content creation.
Date: October 5
Location: Virtual
---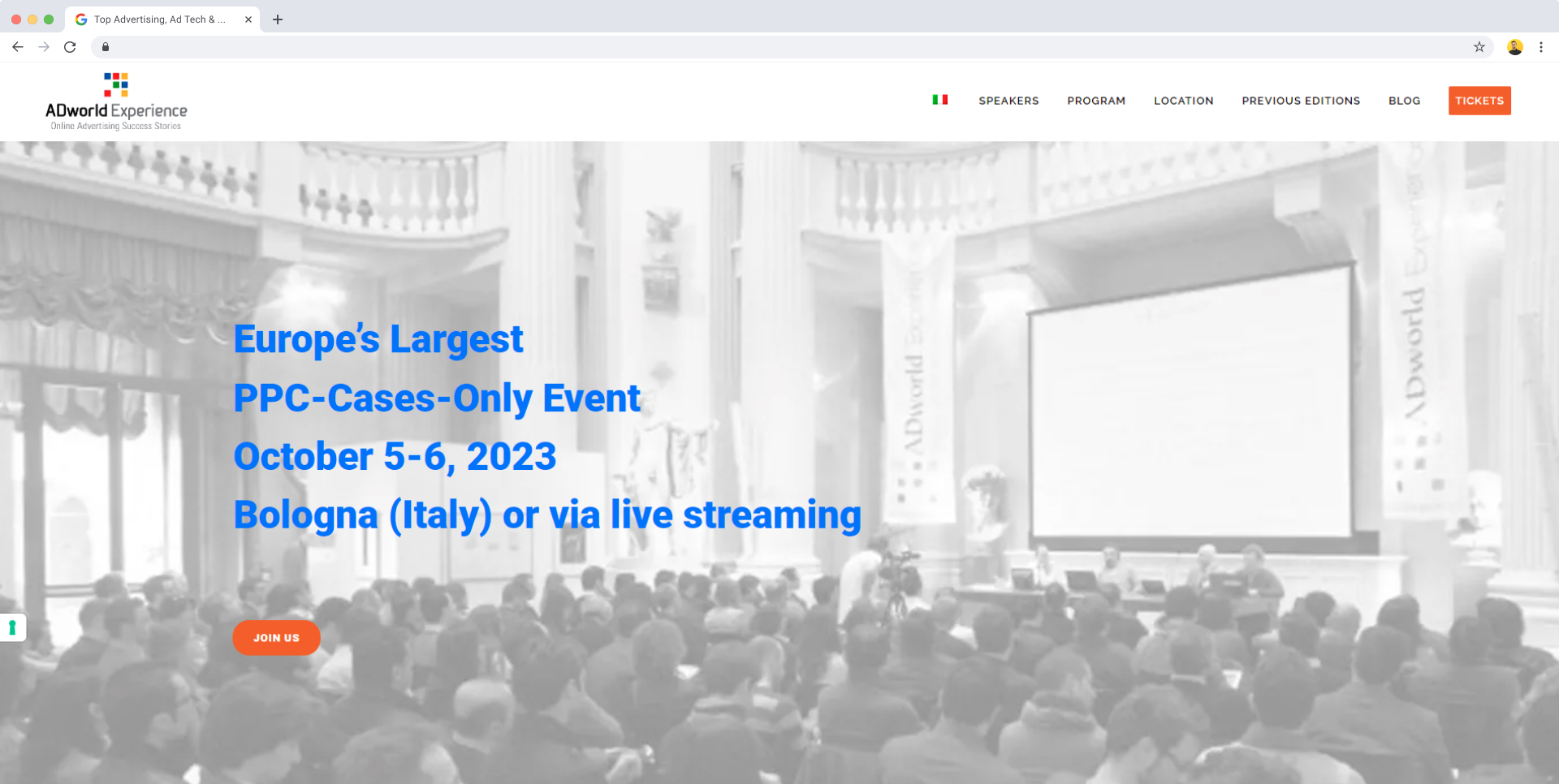 PPC-Cases-Only Event
Welcome to ADworld Experience, the grandest gathering in Europe and across the globe dedicated to pay-per-click (PPC) and Conversion Rate Optimization. Here, marketers base their insights solely on real PPC cases, making it an exceptional and unparalleled event in digital marketing. The resounding endorsement of 99.7% of past participants, who have expressed their intent to recommend this event to friends and colleagues, underscores the excellence that awaits you.
Date: October 5-6
Location: Bologna, Italy / Virtual
---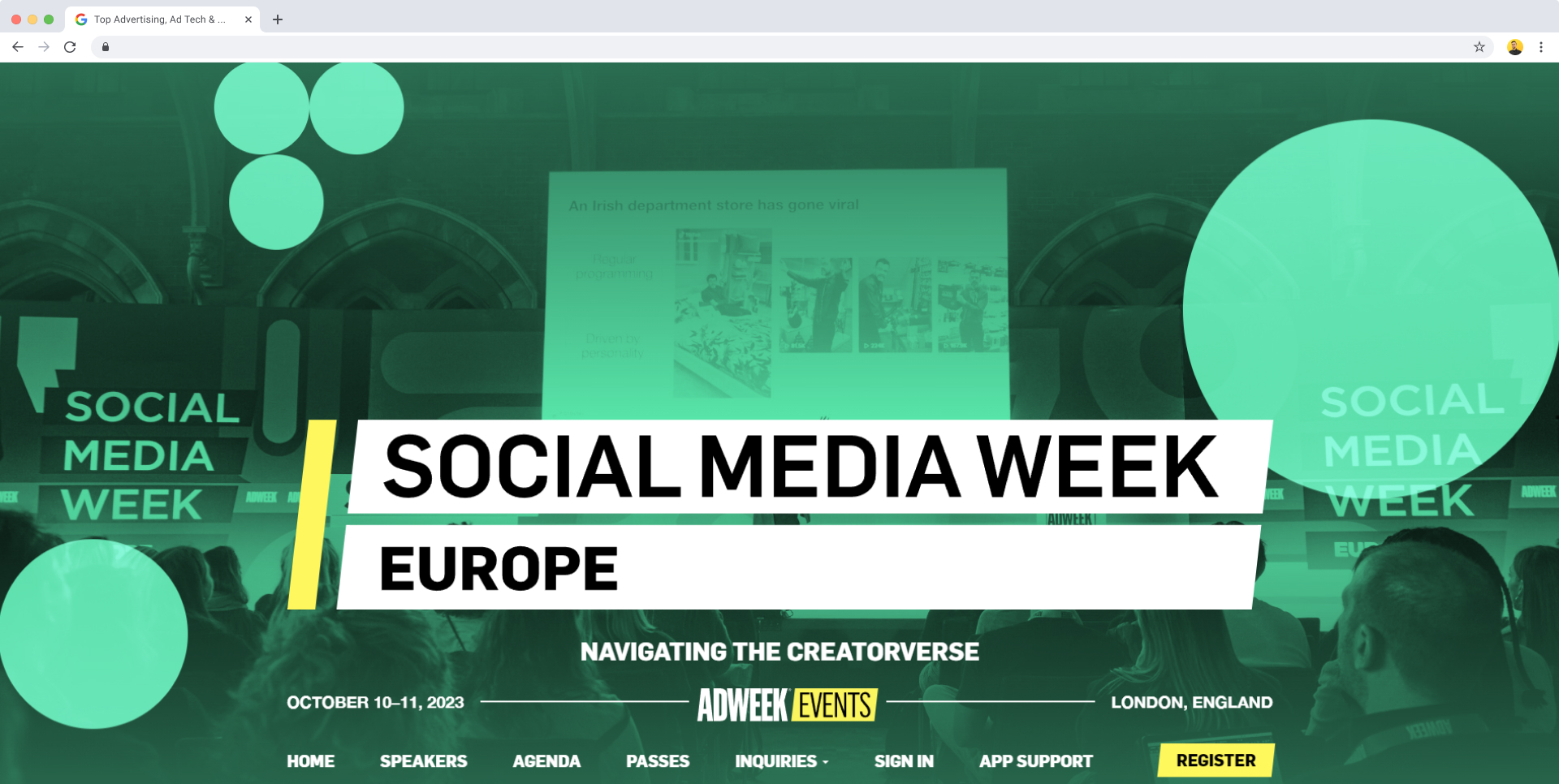 Social Media Week Europe
In the vibrant atmosphere of this year's Social Media Week Europe (#SMWEurope), Adweek extends a warm invitation to all marketers and social media professionals. Join an enriching journey that will uncover the latest trends, shining success stories, and even valuable lessons from the occasional stumble. It's an opportunity to learn, connect, and inspire each other on the path to social media excellence.
Date: October 10-11
Location: London
---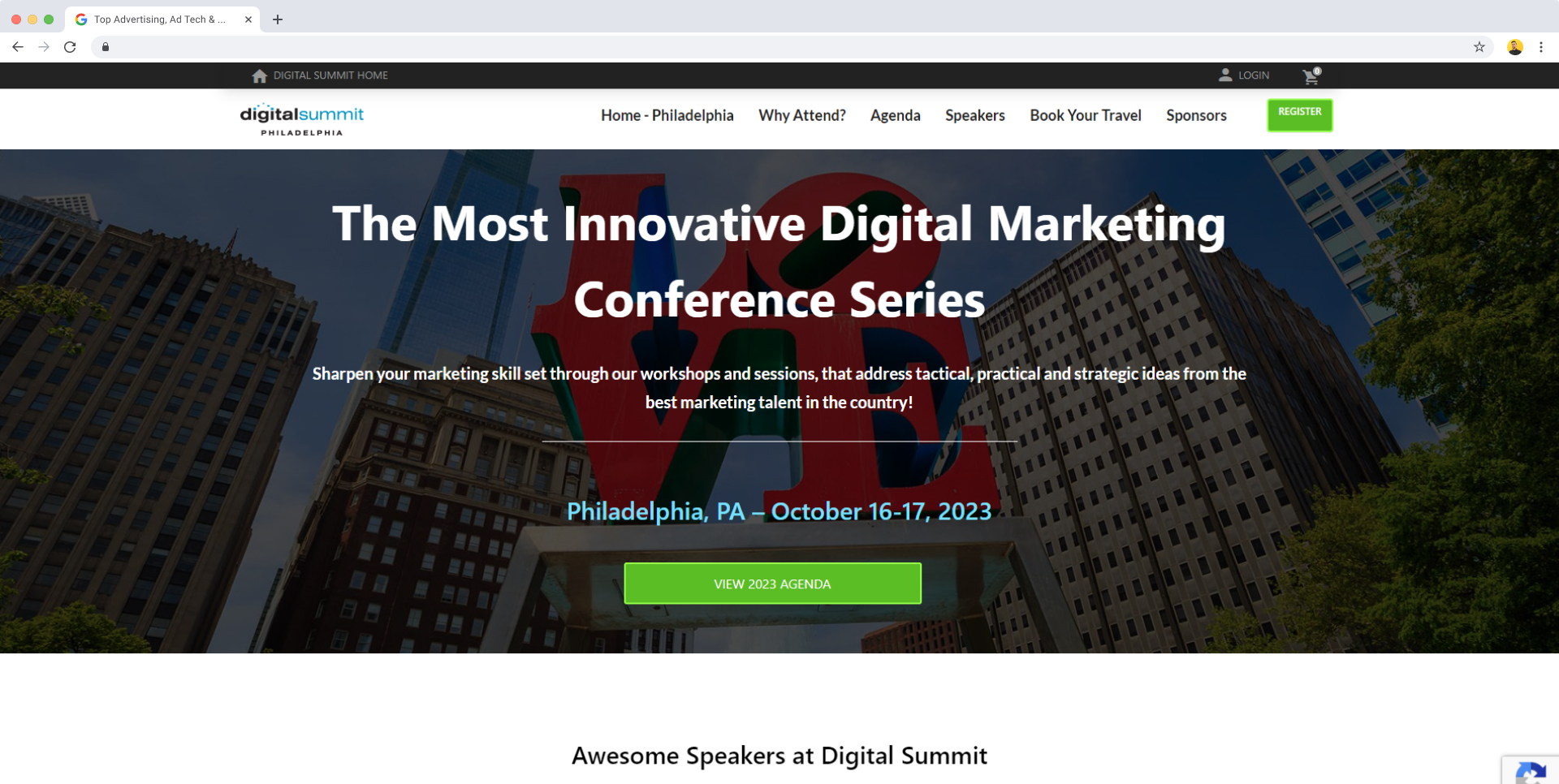 Digital Summit Philadelphia
Elevate your marketing expertise at Digital Summit Philadelphia. The event's workshops and sessions offer a rich reservoir of tactical, practical, and strategic insights carefully selected by some of the most brilliant marketing talents in the country. This is your golden opportunity to sharpen your skills, broaden your knowledge, and maintain a leading edge in the world of marketing excellence.
Date: October 16-17
Location: Philadelphia, PA
---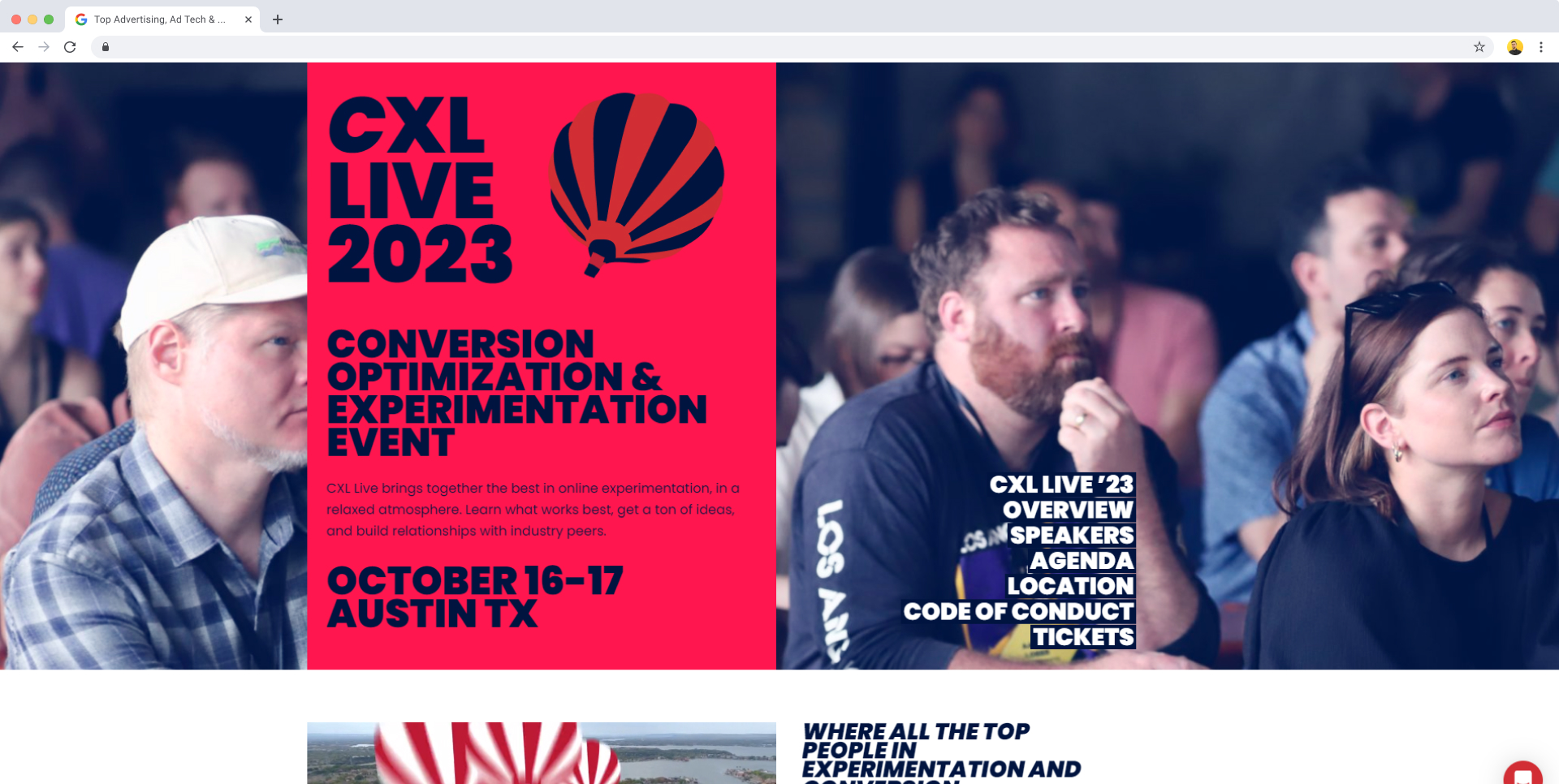 Conversion Optimization & Experimentation Event
For nearly a decade, CXL Live has proudly held its position as the foremost conference for Conversion Rate Optimization (CRO) and experimentation. Here at CXL Live, people create an environment that seamlessly blends expertise with relaxation. It's about more than just learning what works best. It's a journey that immerses you in a wealth of ideas and fosters lasting connections with industry peers.
Date: October 16-17
Location: Austin, TX
---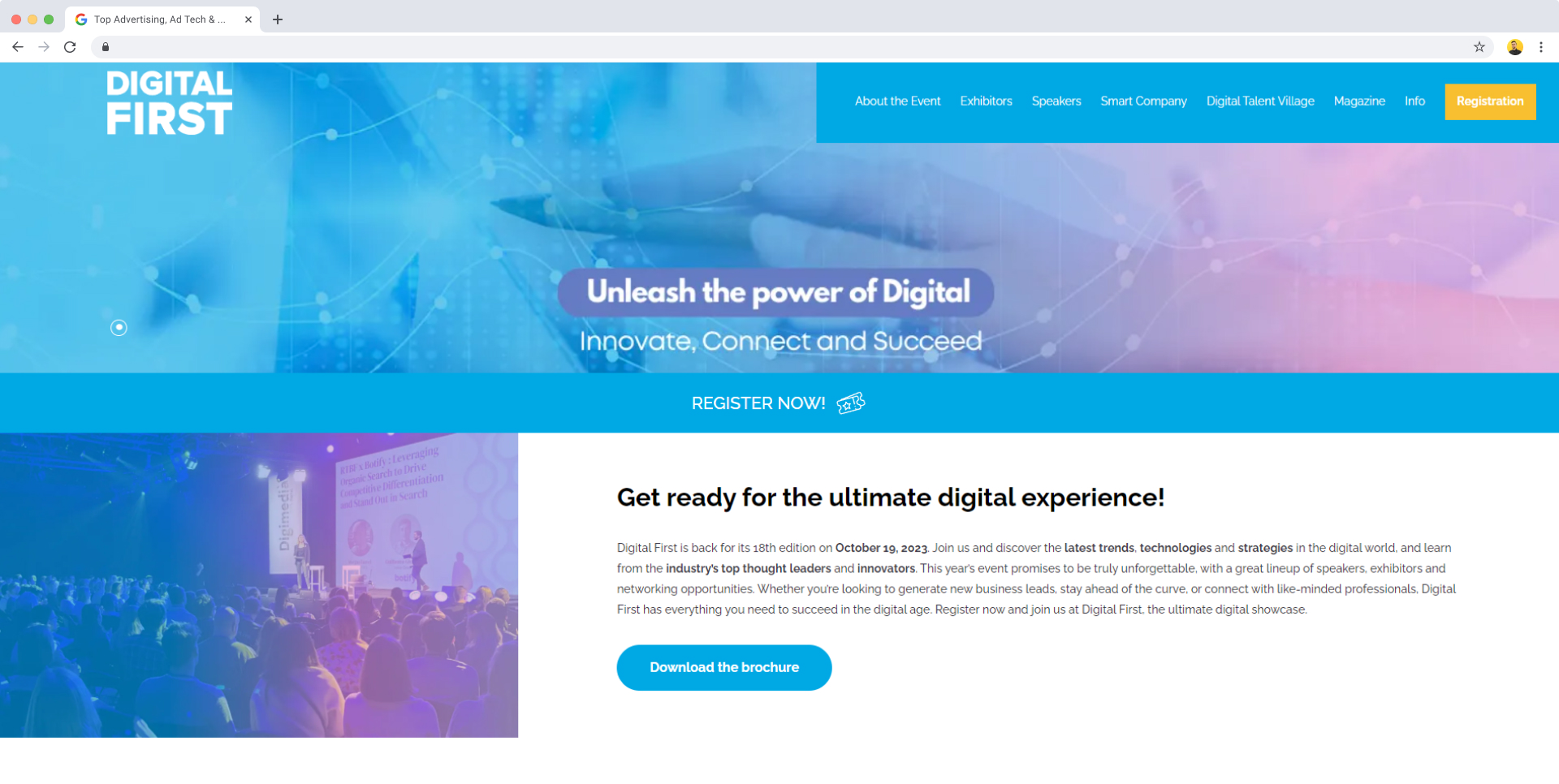 Digital First
Embark on a voyage of discovery through the ever-evolving digital landscape at Digital First. Here, you'll unlock the freshest trends, groundbreaking technologies, and ingenious strategies that define the digital realm. Join and glean wisdom from the industry's foremost thought leaders and trailblazers.
Date: October 19
Location: Brussels, EU
---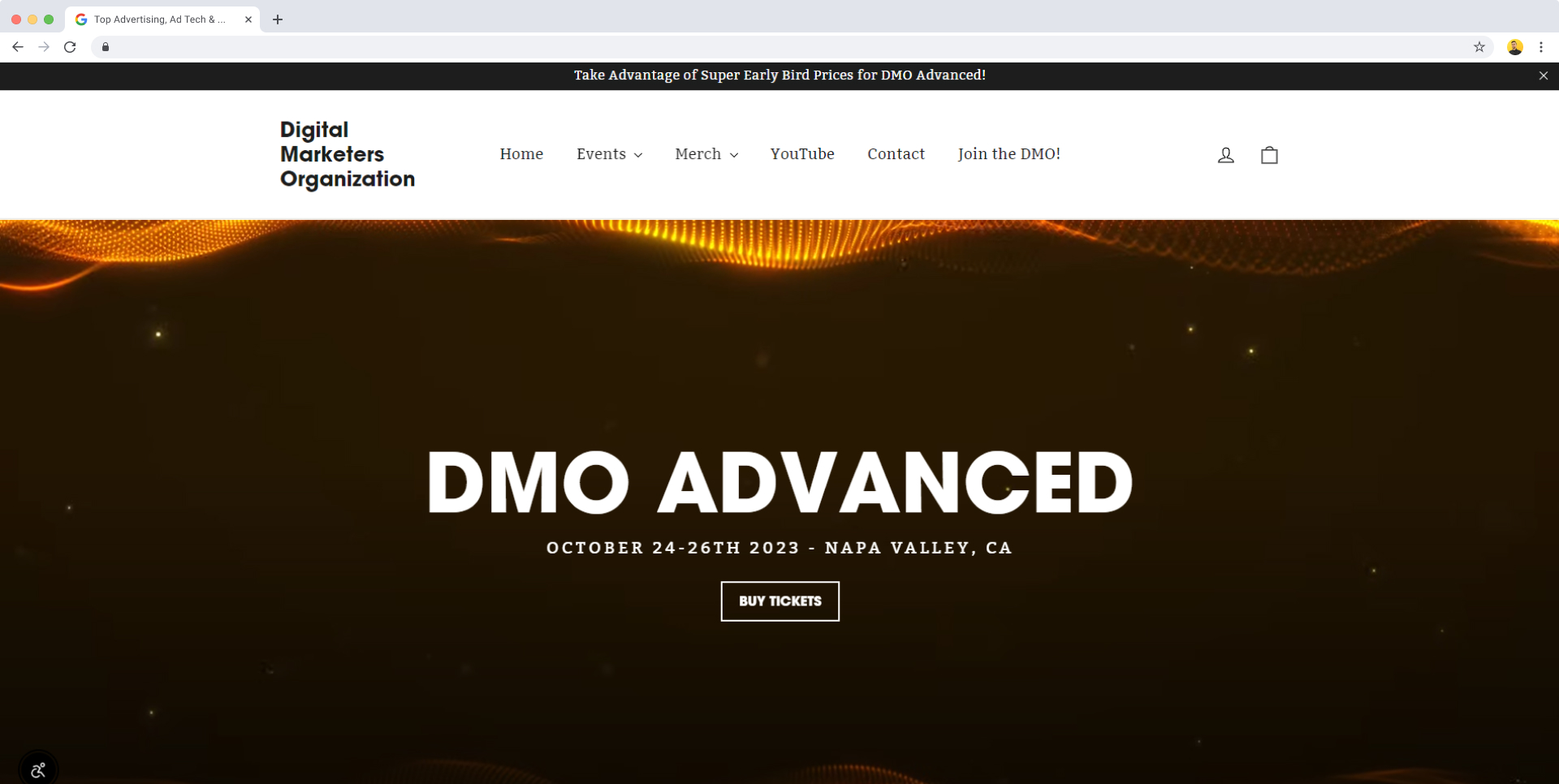 DMO Advanced
It's time for a fresh approach that breaks away from the confines of traditional classrooms. The collaborative sessions offered at DMO Advanced empower individuals to steer their paths toward growth and education. Research indicates that immersive environments lead to accelerated learning and improved retention. It's a unique opportunity to broaden horizons while forging lasting memories.
Date: October 24-26
Location: Napa Valley, CA
---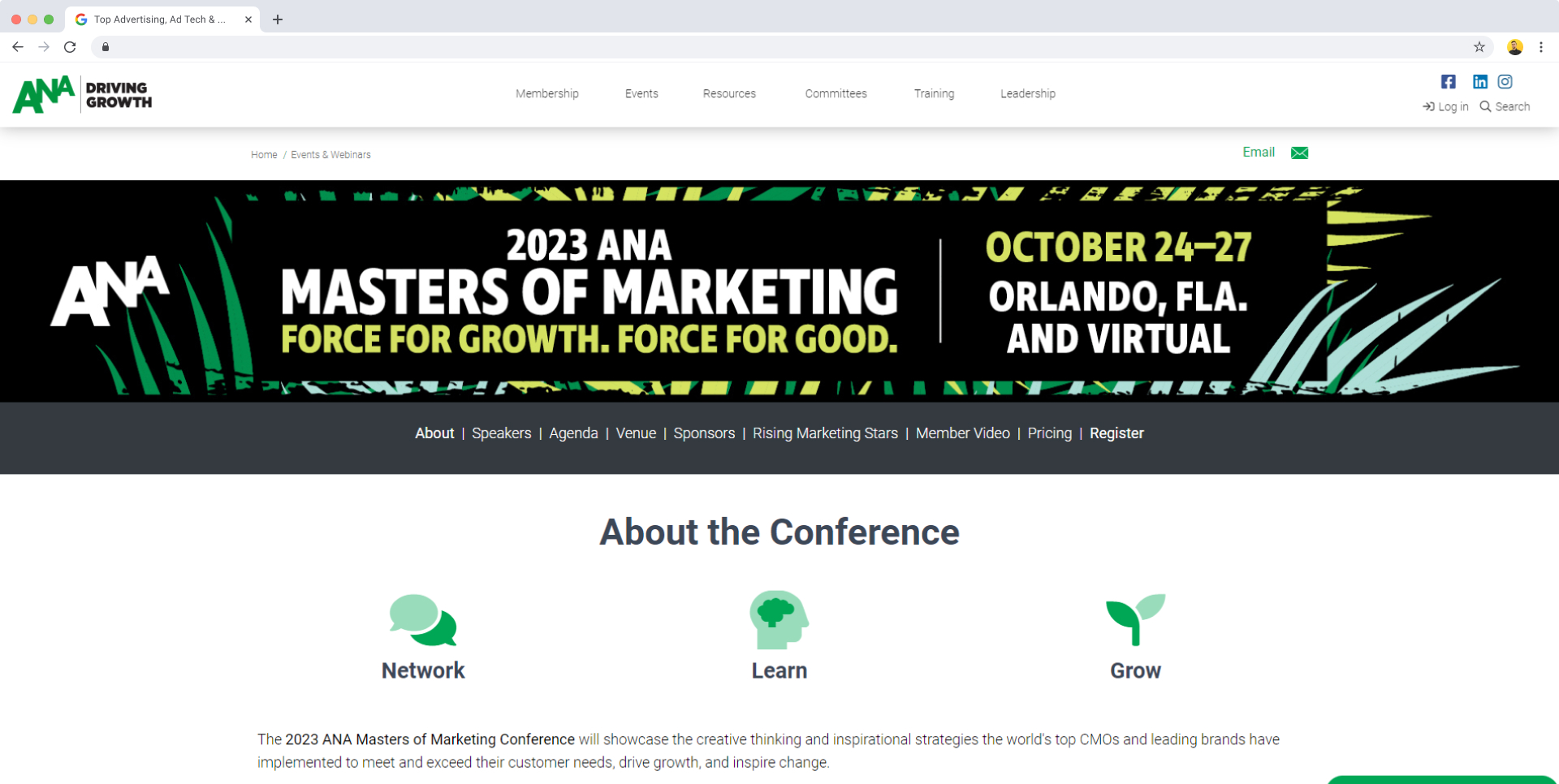 2023 ANA Masters of Marketing
Step into the spotlight of the 2023 ANA Masters of Marketing Conference, where brilliance in innovation and motivational strategies will shine. Witness firsthand the ingenious ideas and awe-inspiring approaches embraced by the globe's foremost CMOs and iconic brands to satisfy and surpass customer expectations.
Date: October 24-27
Location: Orlando, USA / Virtual
---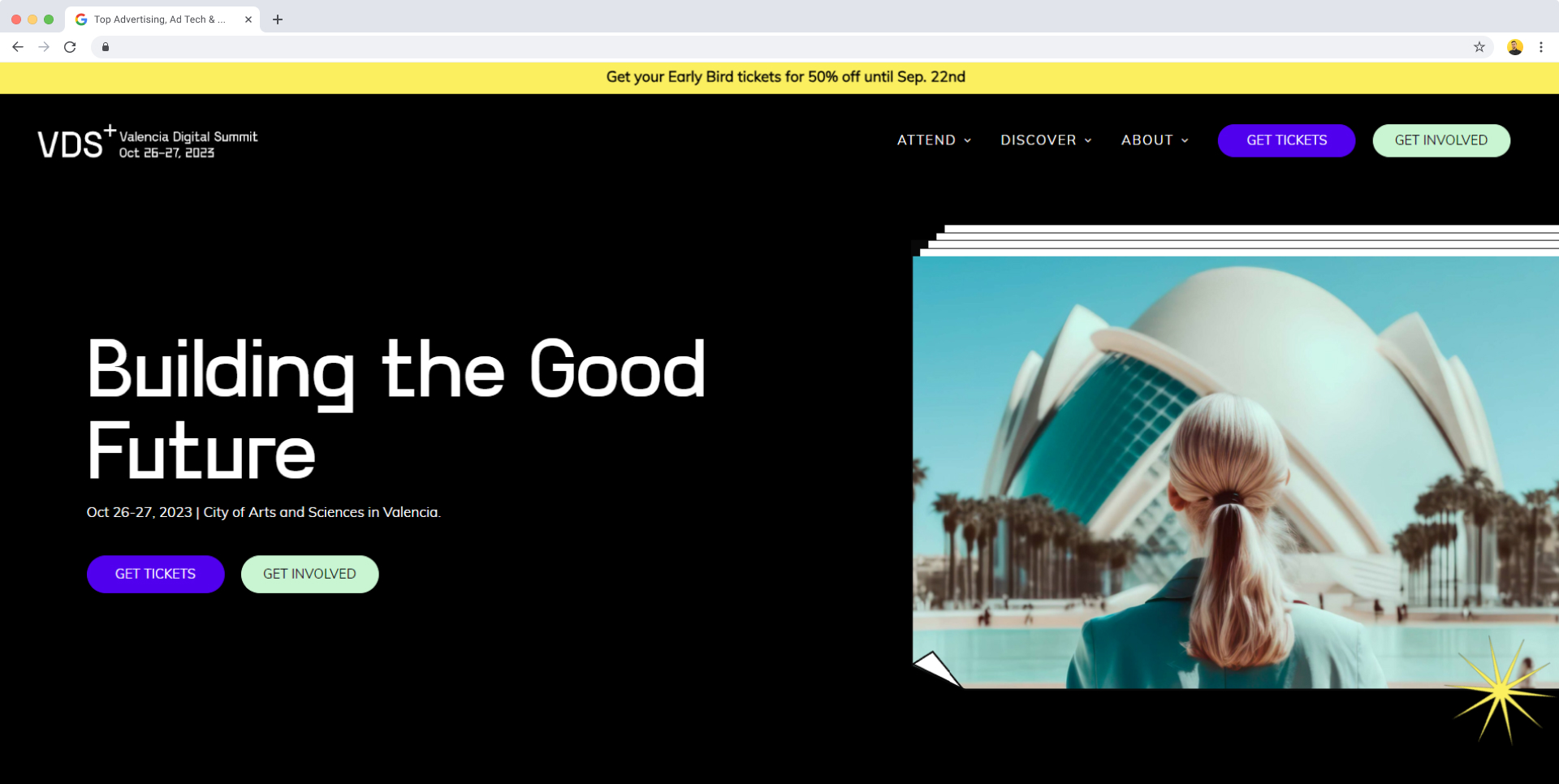 Valencia Digital Summit
The Valencia Digital Summit is a global platform that offers a holistic 360-degree experience. It showcases disruptive solutions crafted by some of the world's most innovative minds while fostering connections among key industry players. This dynamic interplay propels the tech and innovation ecosystem forward and creates lucrative business opportunities.
Date: October 26-27
Location: Valencia
November 2023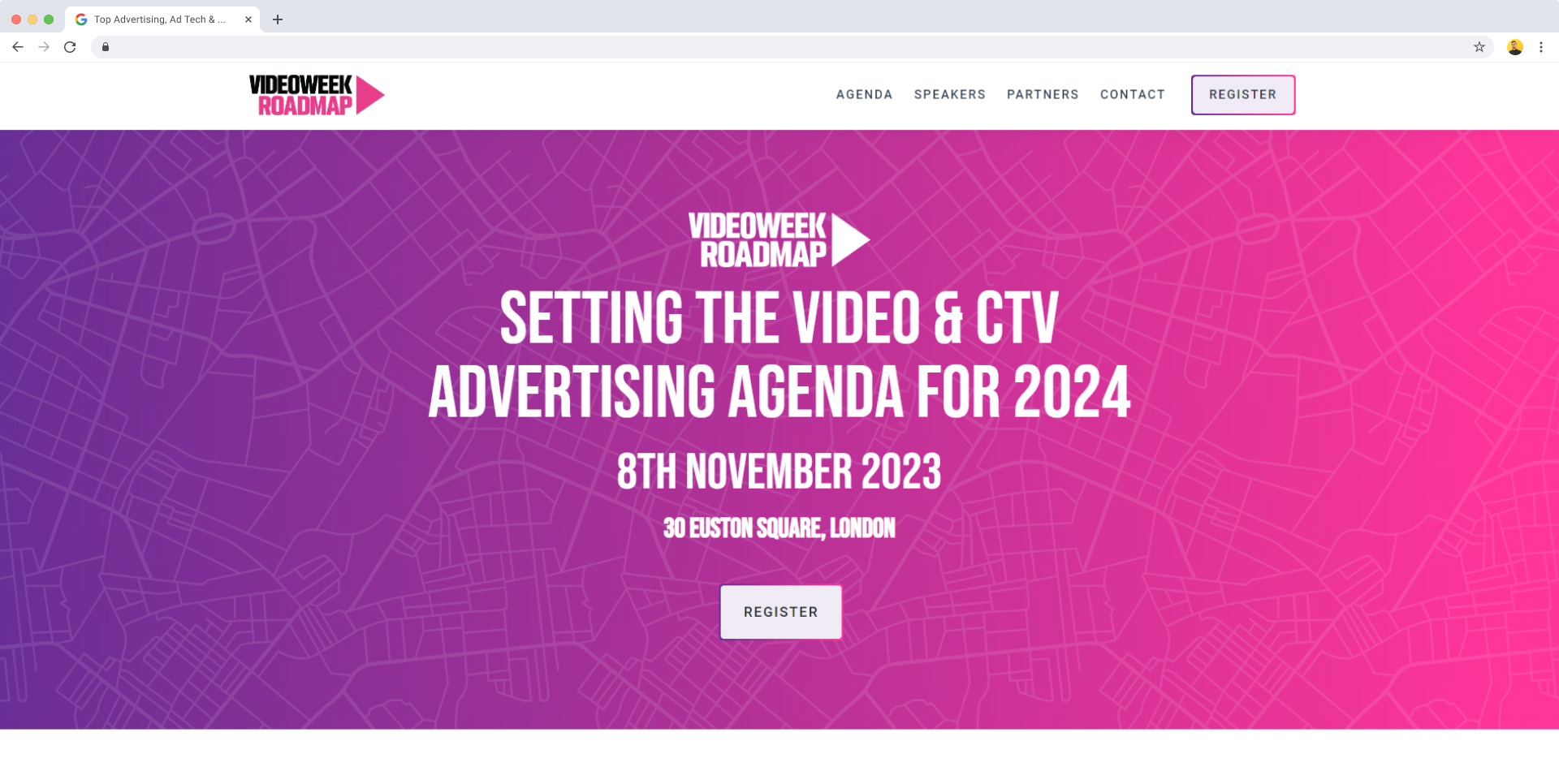 VideoWeek ​​Roadmap
VideoWeek Roadmap, formerly known as 'NVF Roadmap,' beckons industry enthusiasts to a one-day conference. This event is poised to explore the evolving landscape of video and CTV advertising, casting a forward-looking gaze into 2024. It's more than just an event. It's your compass to navigate the evolving terrain of the industry and prepare for a successful future.
Date: November 8
Location: London
---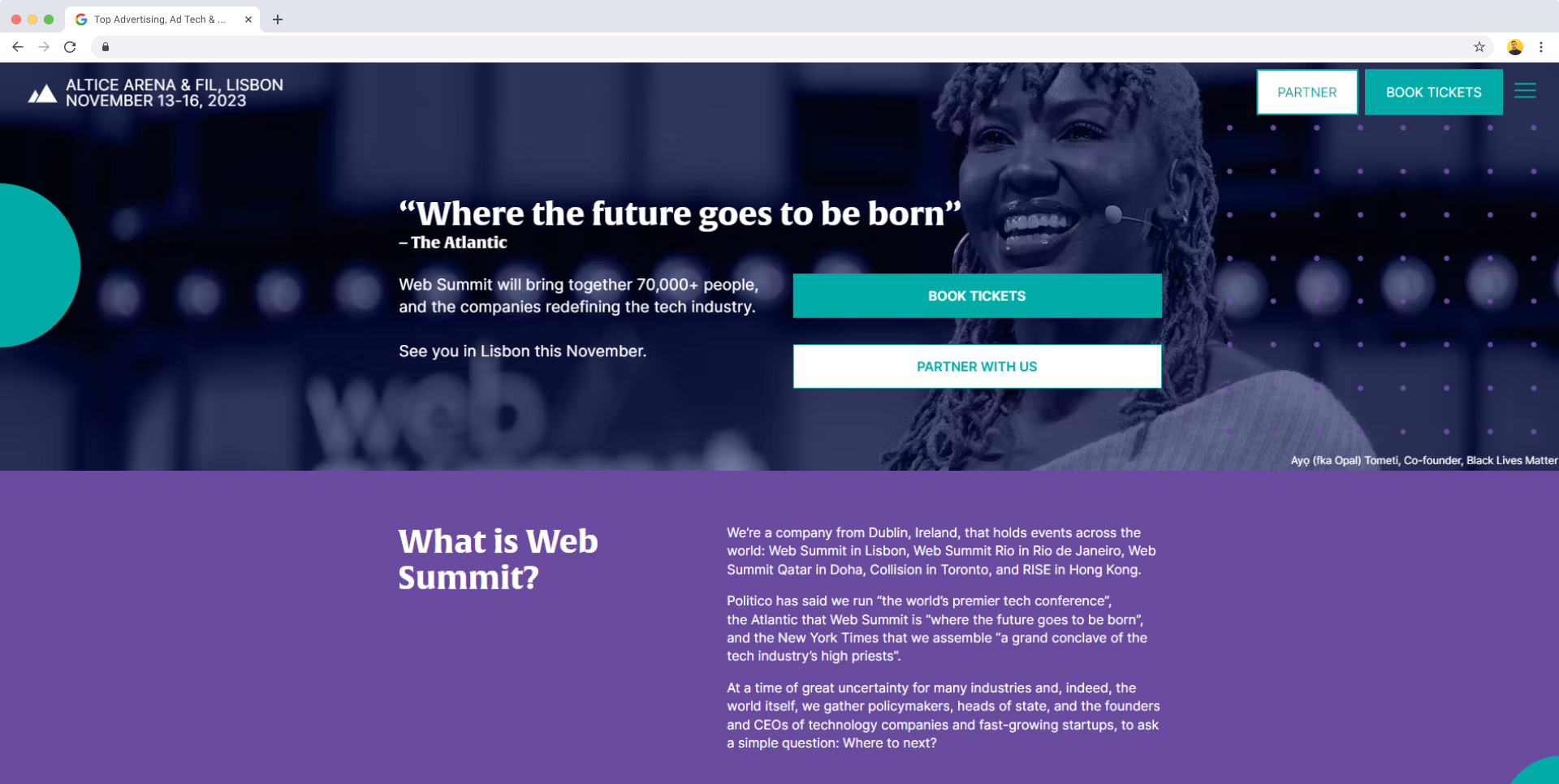 Web Summit
In an era of profound uncertainty across industries, Web Summit convenes a diverse assembly of policymakers, heads of state, and the visionary leaders behind technology giants and burgeoning startups. Together, they unite around a fundamental question: "Where do we go from here?" It's a gathering that transcends boundaries and fosters dialogue, intending to chart a course toward a brighter, tech-driven future.
Date: November 13-16
Location: Lisbon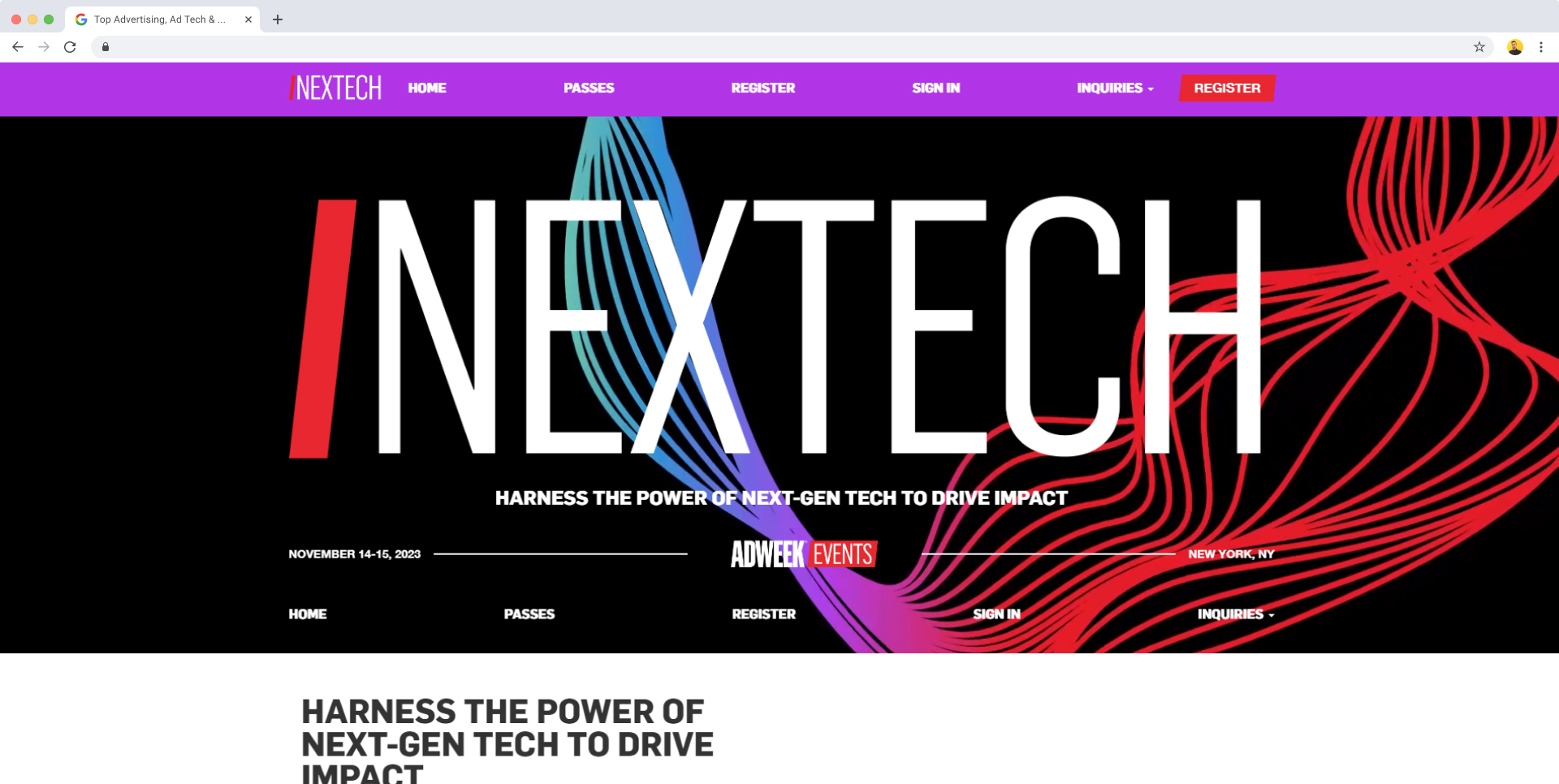 NexTech
Embark on a journey with NexTech, delving into the exciting realms of fresh opportunities for marketers. Exploration will span the realms of generative AI, the wonders of marketing automation tools, the potential of audience management platforms, the immersive landscapes of XR (encompassing AR, VR, the metaverse, and gaming), the transformative power of 5G, and even glimpses into a future enriched by 6G technology, and much more.
Date: November 14-15
Location: New York, NY
---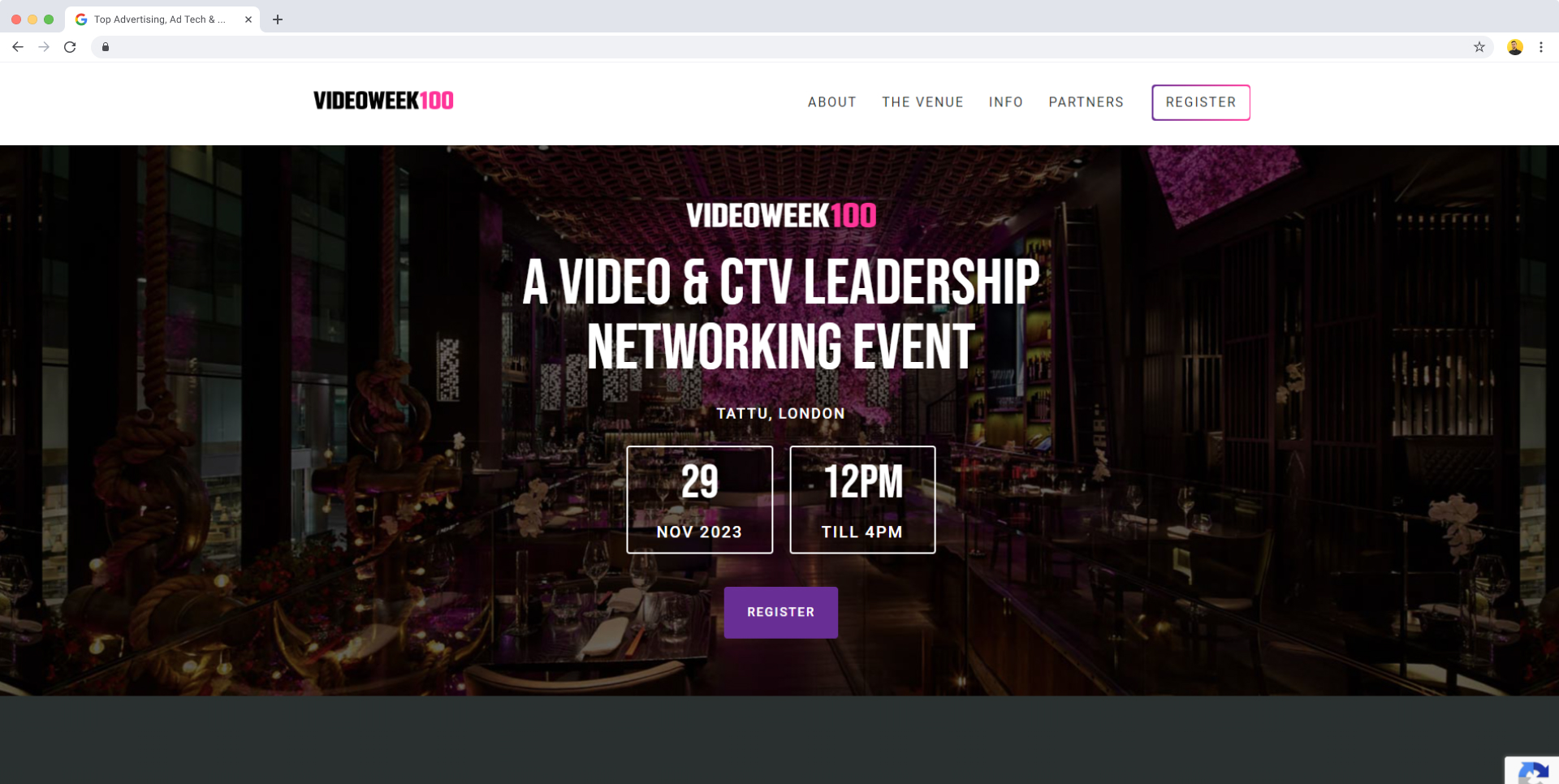 A Video & CTV Leadership Networking Event
This unique lunch event is all about uniting industry leaders. Originally conceived as a one-time post-pandemic gathering to reunite everyone, it was such a success that it's now an annual tradition. Videoweek100 assembles a fascinating blend of individuals, creating the perfect environment for productive networking and forging connections.
Date: November 29
Location: Tattu, London
Top Ad Tech Events Q4 2023
October 2023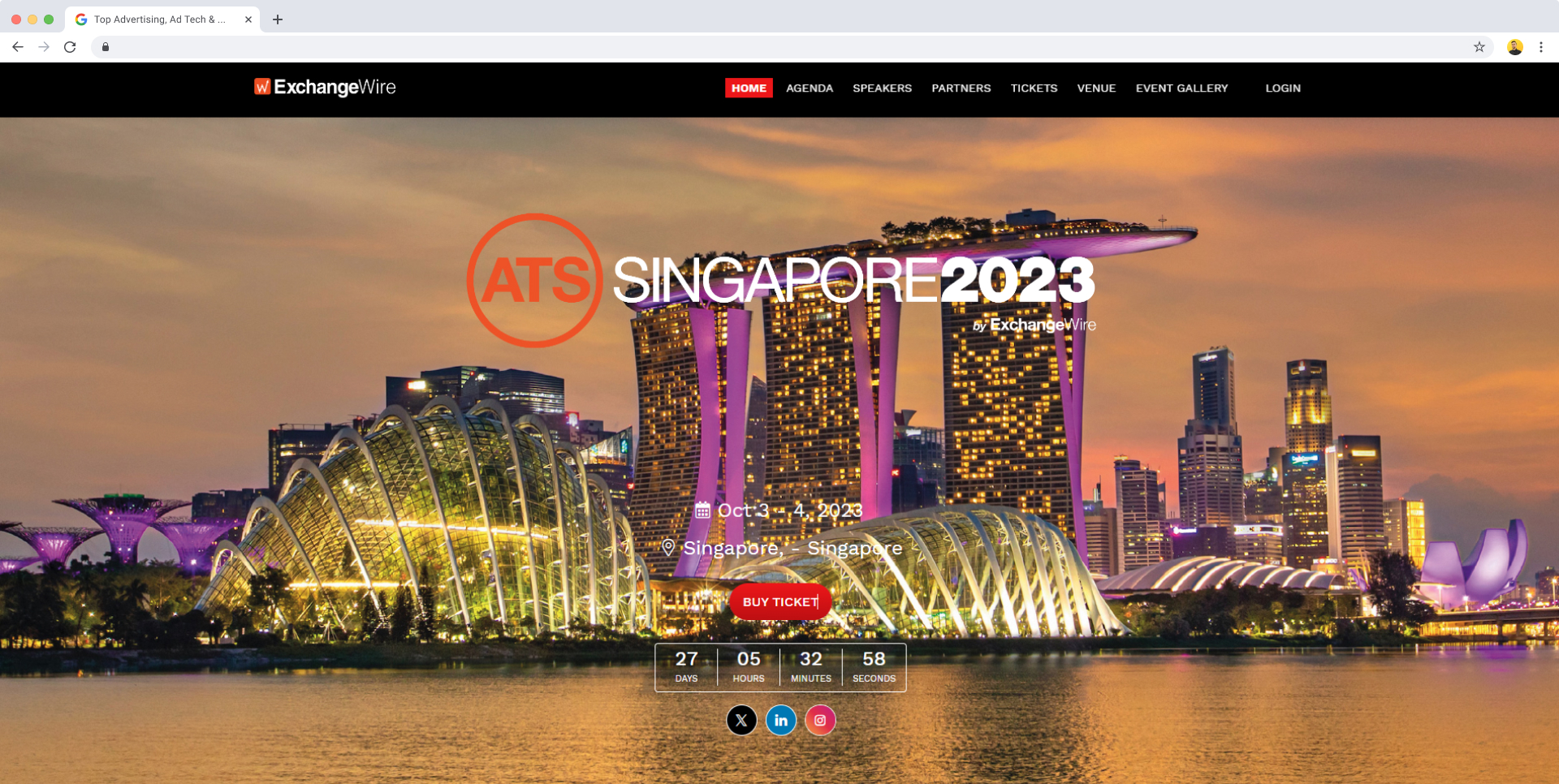 ATS Singapore
ATS Singapore will cast a spotlight on the dynamic developments unfolding throughout the APAC region. A stellar lineup of speakers will present the event, sharing cutting-edge insights and delving into the exciting challenges and innovations within media, marketing, and commerce.
Date: October 3-4
Location: Singapore
---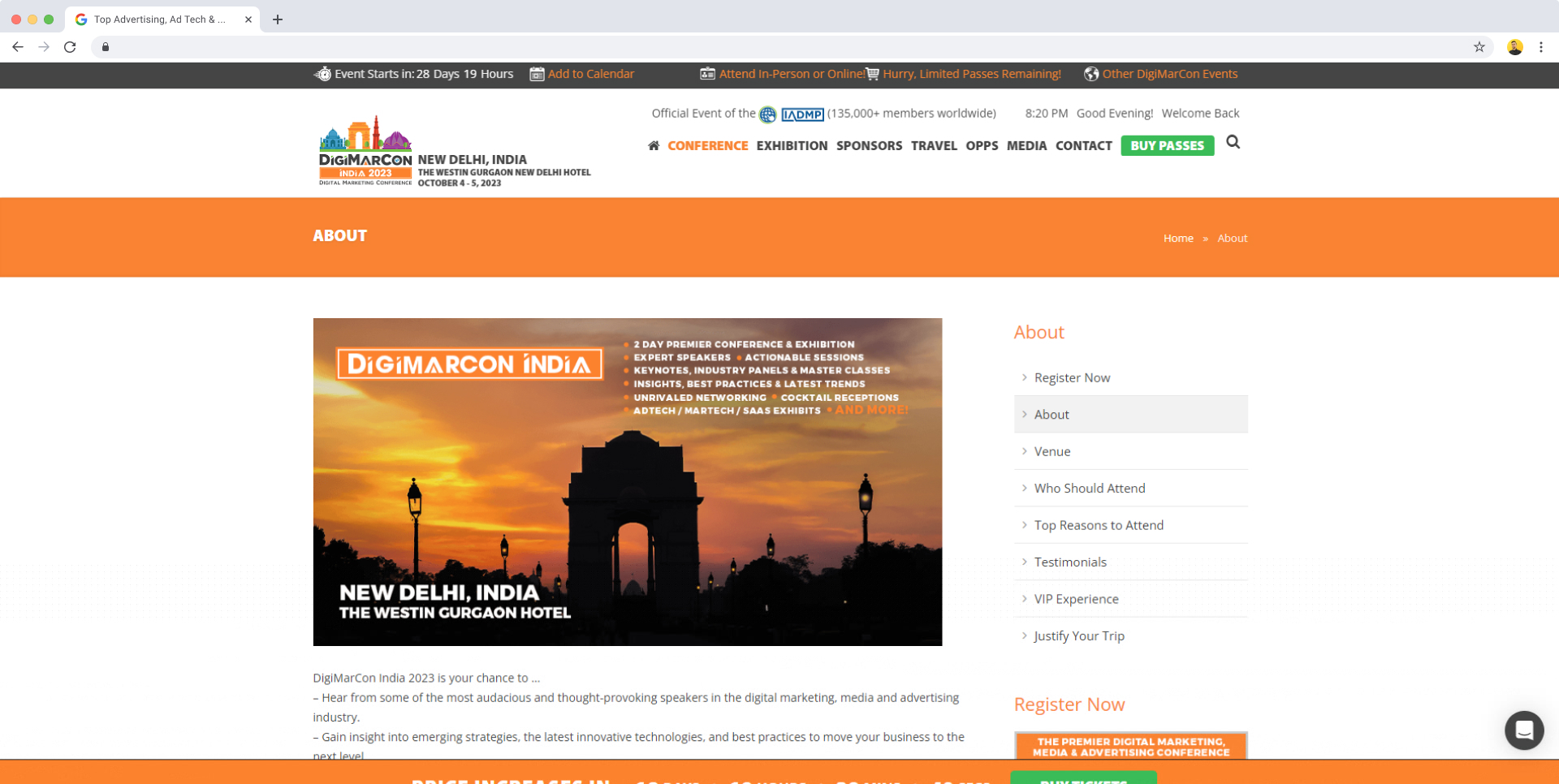 DigiMarCon India
Prepare to be inspired by a lineup of speakers from the dynamic realms of digital marketing, media, and advertising. Here, you'll glean invaluable insights into cutting-edge strategies, emerging technologies, and the very best practices that can propel your business to new heights.
Date: October 4-5
Location: New Delhi, India
---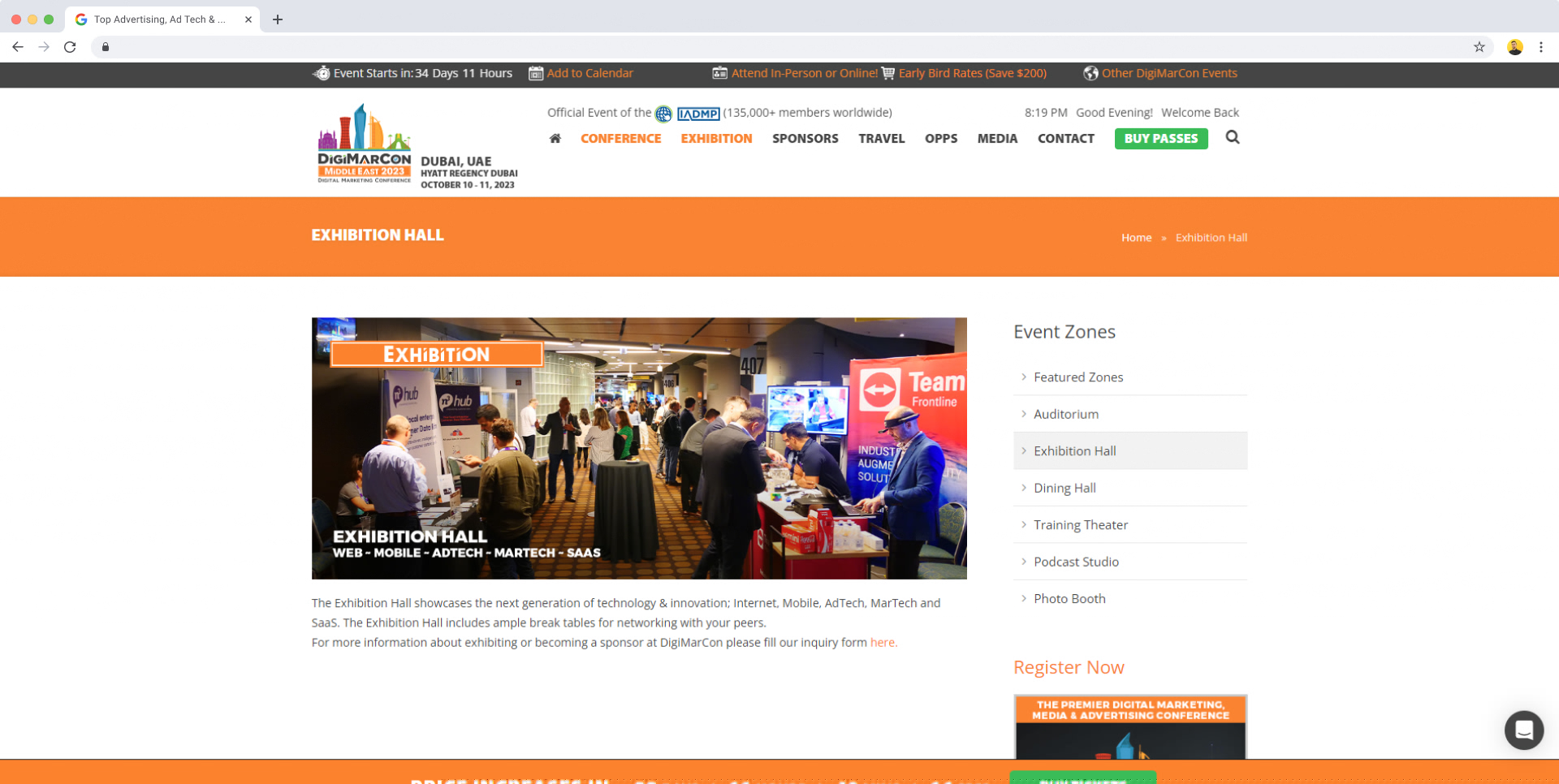 DigiMarCon Middle East
Embrace the opportunity to be a part of DigiMarCon Middle East 2023 and embark on a journey to thrive and excel as a marketer. Immerse yourself in captivating keynotes, enlightening case studies, strategic sessions, and the power of networking. It's your chance to stay at the forefront of digital marketing and chart a course for continued success in the dynamic marketing world.
Date: October 10-11
Location: Dubai, United Arab Emirates
---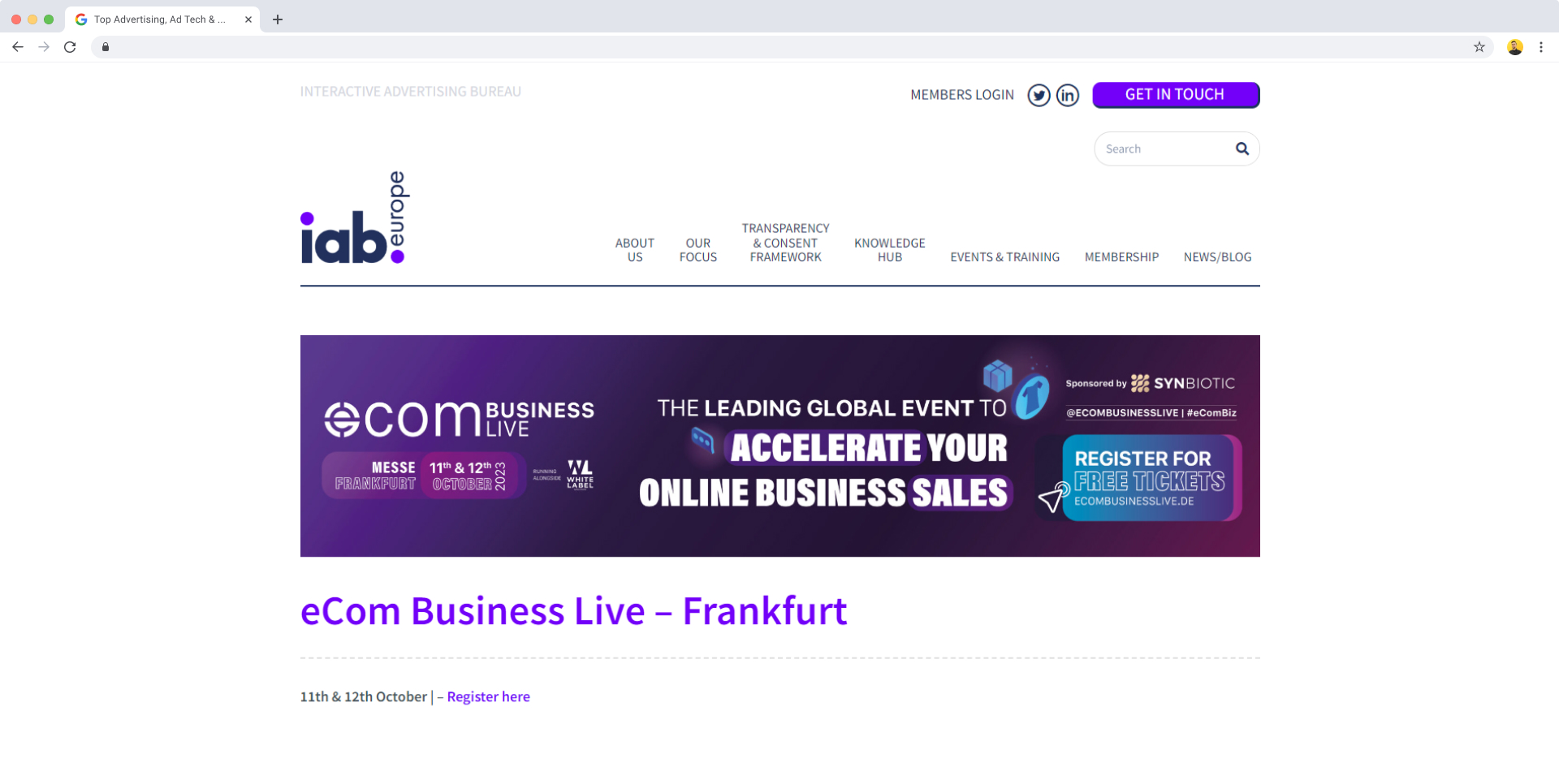 White Label World Expo
Prepare to embark on an exhilarating journey into the world of eCommerce. The event promises to unveil the latest industry trends and strategies, offering a transformative path for every online seller aiming to scale their business with resounding success.
Date: October 11-12
Location: Messe Frankfurt, Germany
---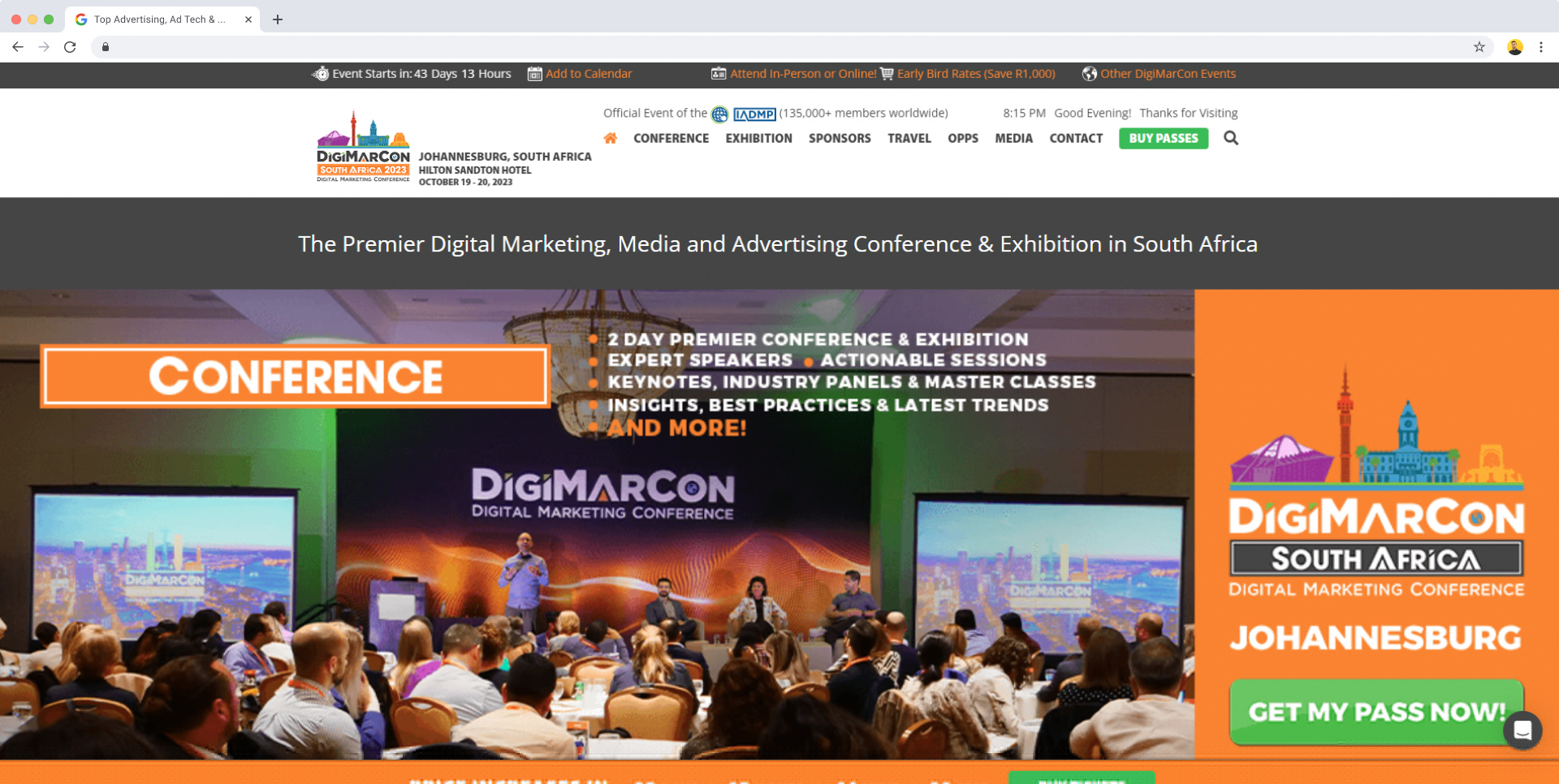 DigiMarCon South Africa
Expect to delve into the latest trends, discover practical solutions, craft winning strategies, and establish invaluable connections through networking. Additionally, be sure to explore the cutting-edge world of technology and innovation, including the realms of Internet, Mobile, AdTech, MarTech, and SaaS Technology. It's your opportunity to stay at the forefront of the digital landscape while forging meaningful connections.
Date: October 19-20
Location: Johannesburg / Online
---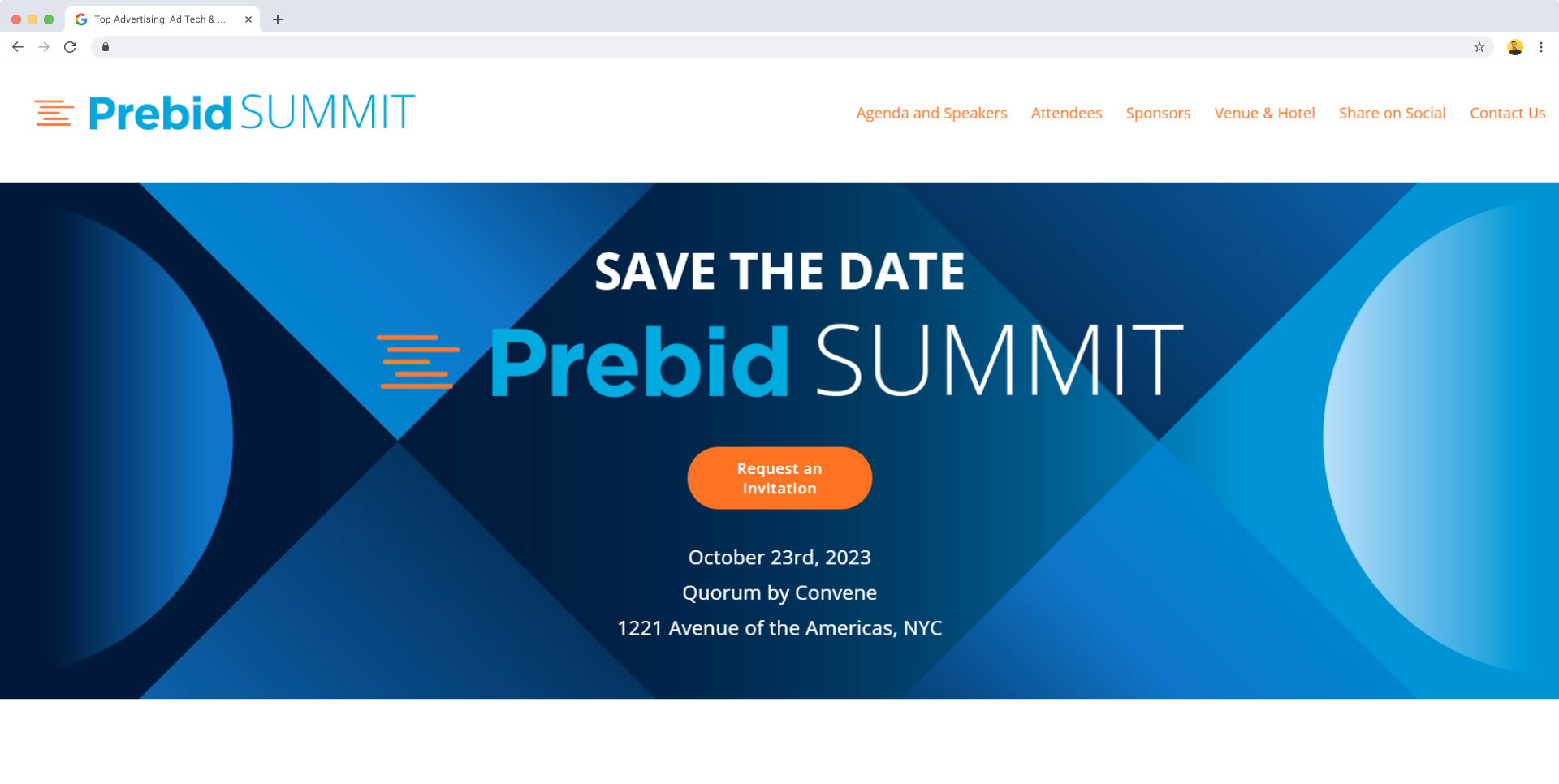 Prebid summit
Join this event for an exclusive gathering at Prebid's inaugural invite-only summit. Here, industry luminaries will converge to embark on a collective exploration of the future, one that is rooted in privacy while sustaining a thriving ad-supported digital ecosystem. You'll discover how Prebid's open-source products are poised to catalyze revenue growth for your business, illuminating a path toward a sustainable and prosperous digital landscape.
Date: October 23
Location: NYC
---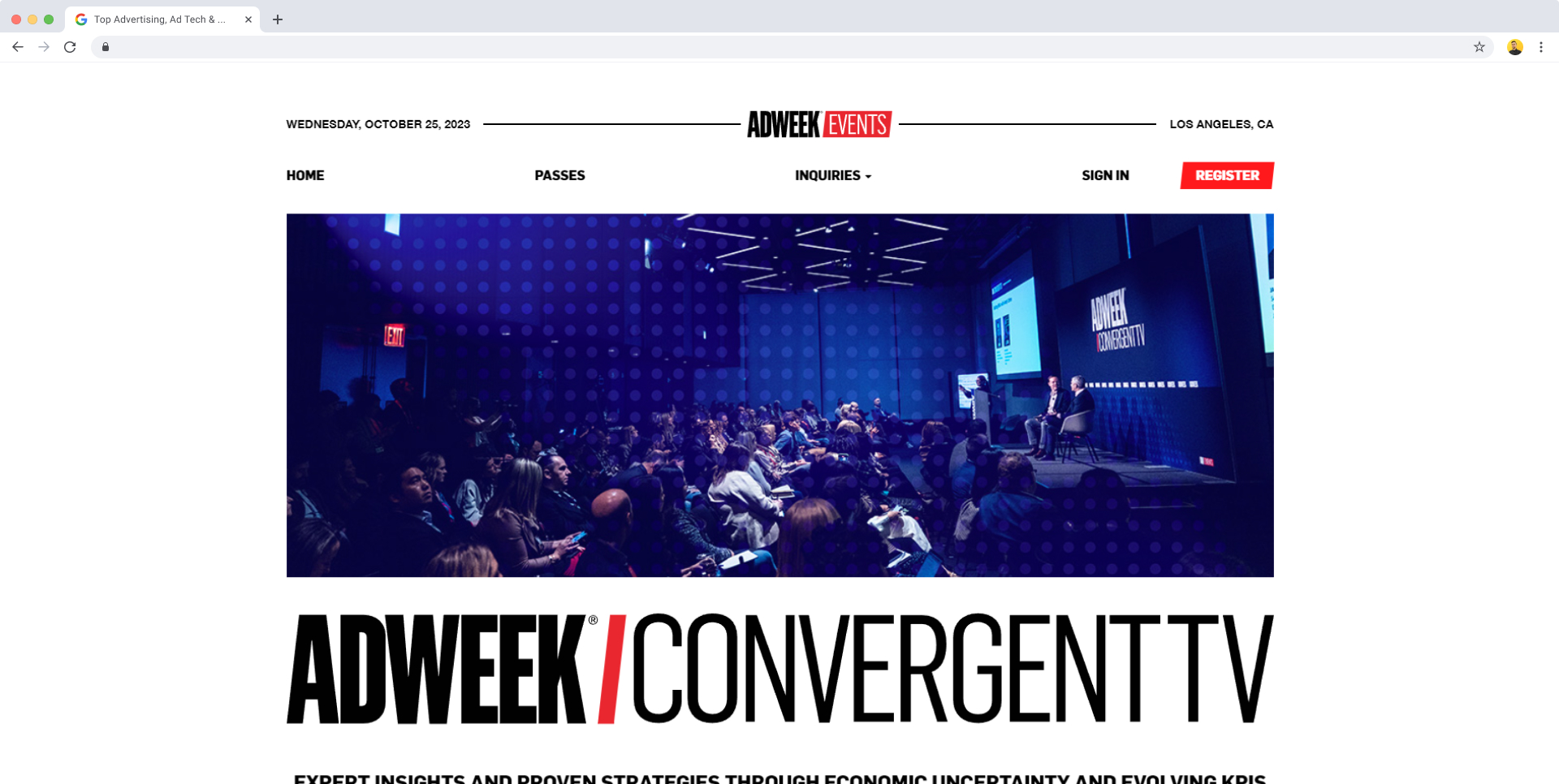 Convergent TV
Immerse to the wisdom of leaders in TV, media, technology, and marketing who are at the forefront of the Convergent TV revolution. They will guide you on harnessing agility, fostering partnerships, and embracing experimentation to prepare for the upcoming paradigm shift.
Date: October 25
Location: Los Angeles, CA
---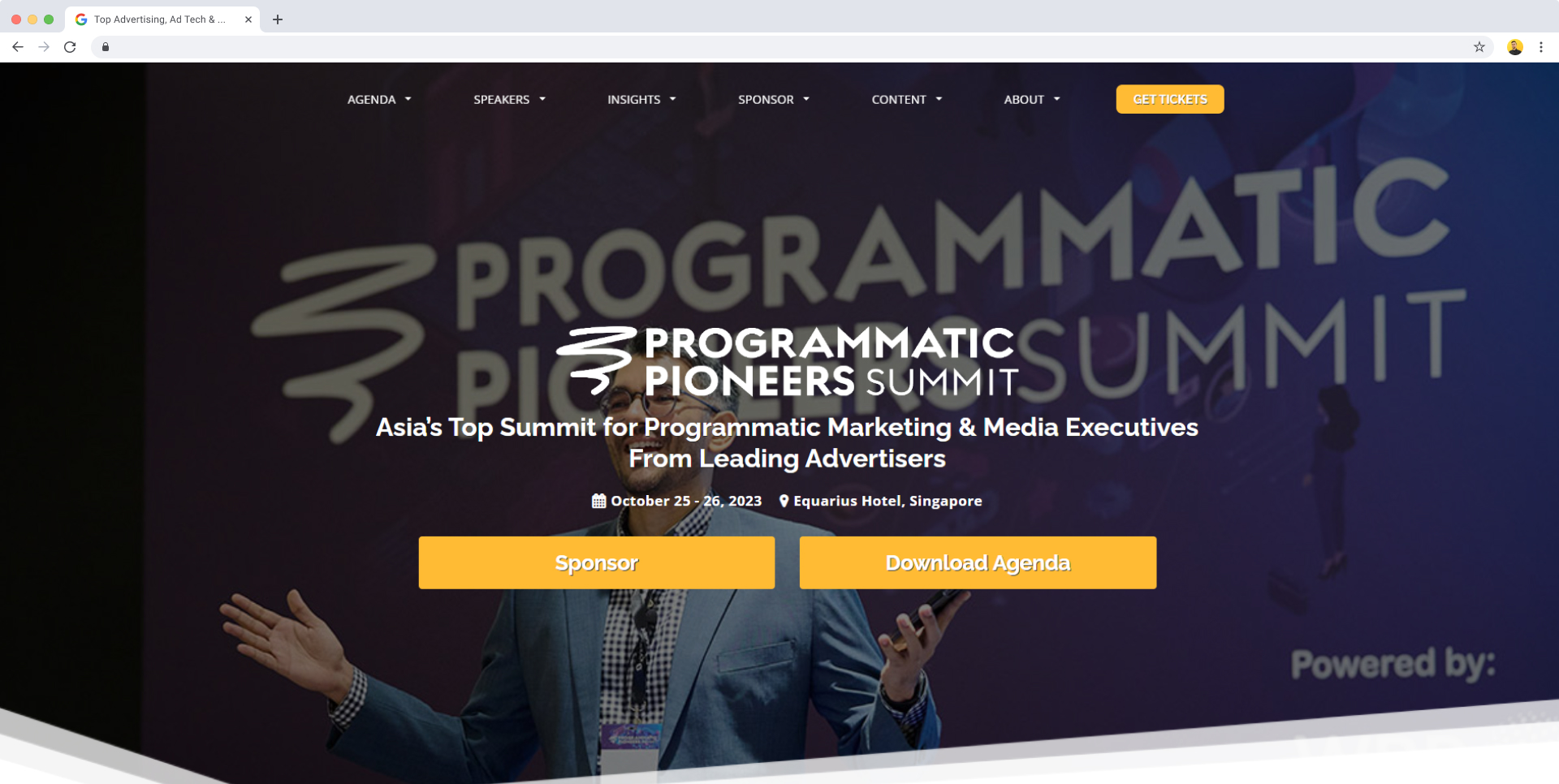 Programmatic Pioneers Summit APAC
Programmatic Pioneers Summit is the premier annual gathering that unites the best of APAC's Brands, Agencies, Publishers, and Media Owners. Here, you'll find a unique opportunity to learn from, connect, and collaborate with advertising and digital marketing luminaries. Prepare to be enriched by practical insights from industry leaders who have shaped the landscape.
Date: October 25-26
Location: Singapure, Asia
November 2023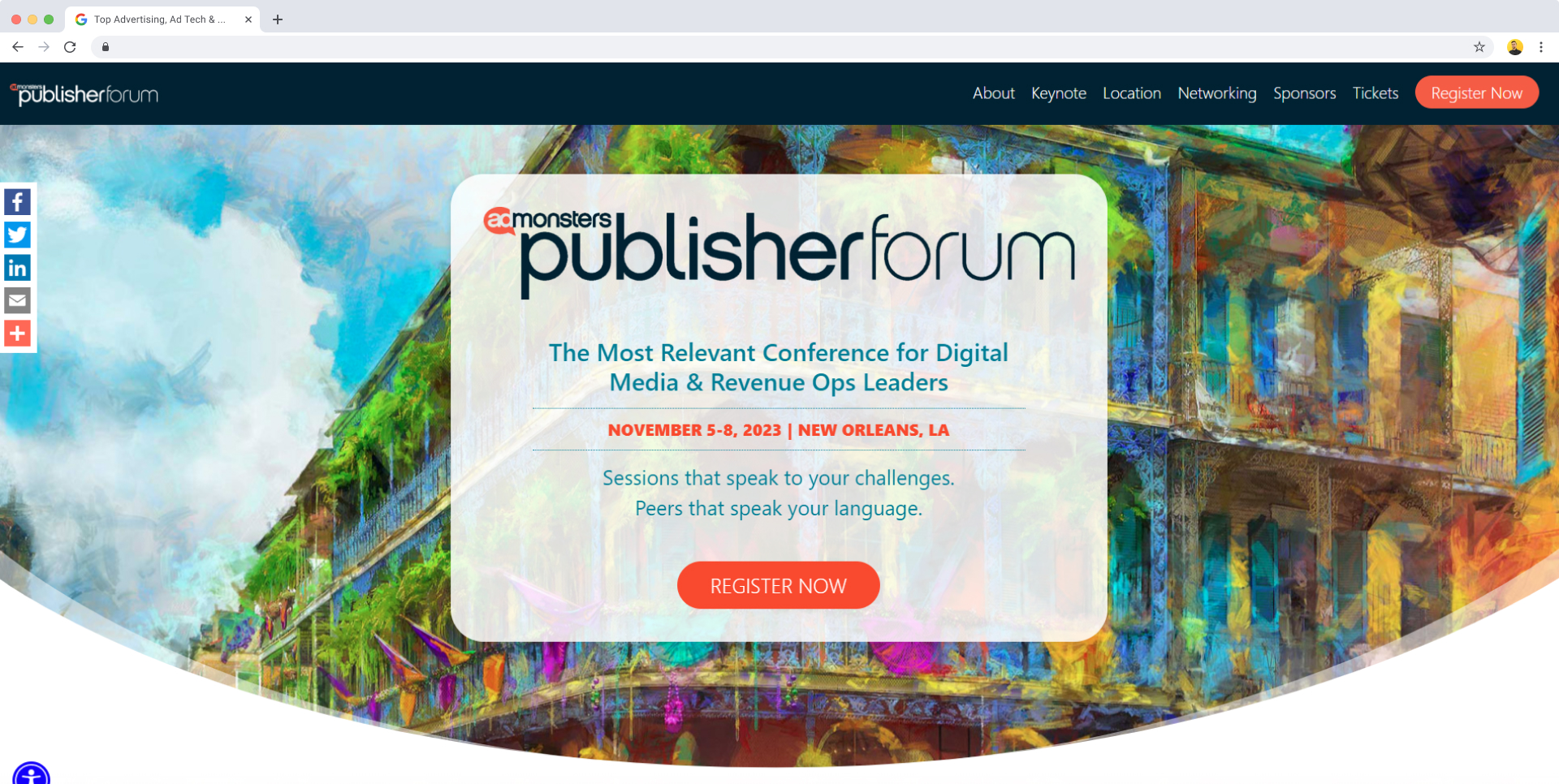 Admonsters Publishing Forum
Join hands with fellow industry enthusiasts to propel the digital media landscape forward. Immerse yourself in cutting-edge discussions centered around revenue maximization. Embrace the extraordinary as you participate in an event where your voice shapes the agenda.
Date: November 5
Location: New Orleans, USA
---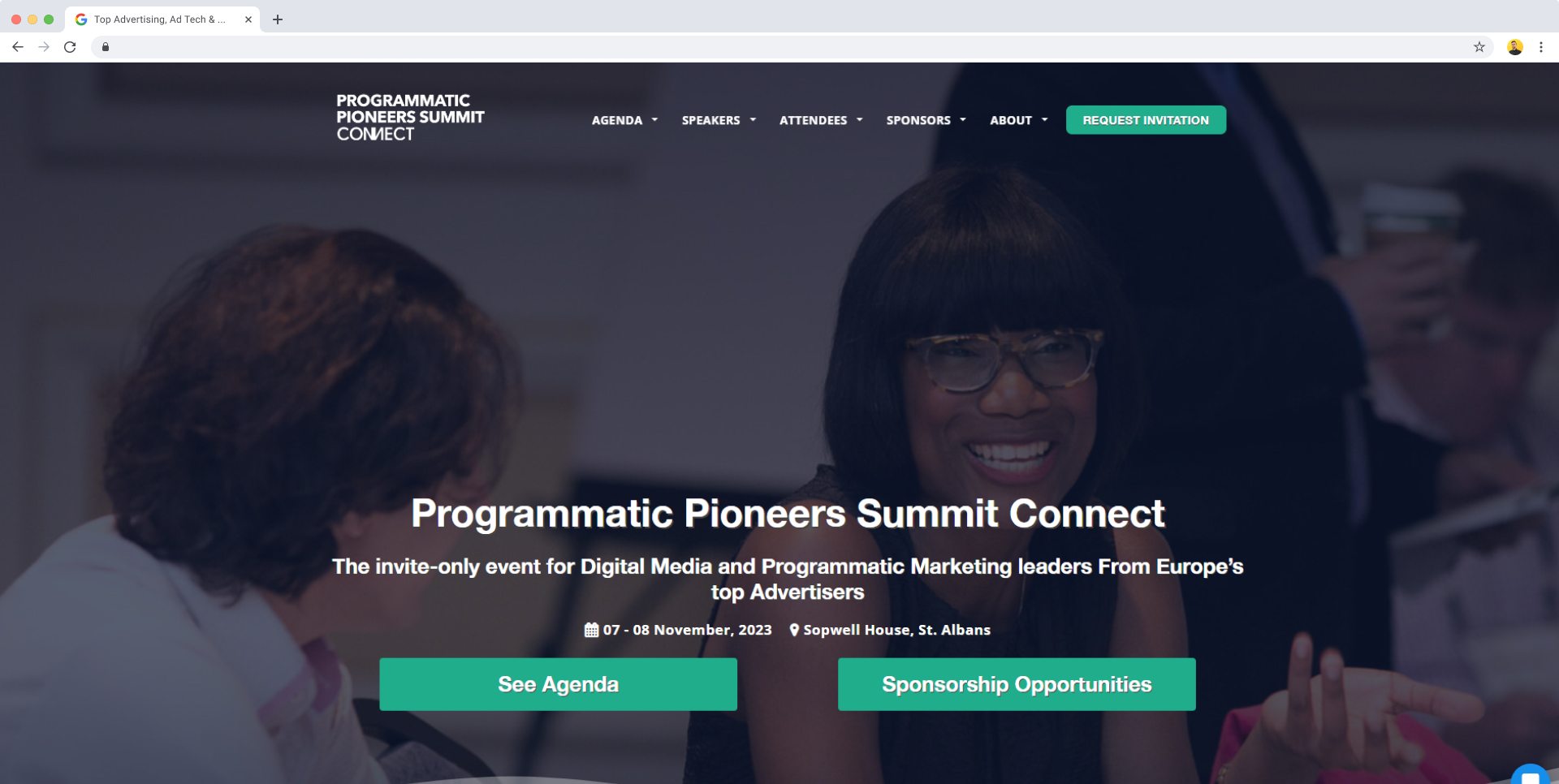 Programmatic Pioneers Summit Connect
Embark on a transformation journey as you engage in dynamic, closed-door sessions led by industry luminaries. Here, you'll co-create tangible strategies to reshape your business for the better. It's an opportunity to explore the leading service offerings and make informed decisions that can propel your business forward.
Date: November 7
Location: St Albans, GB, EU
---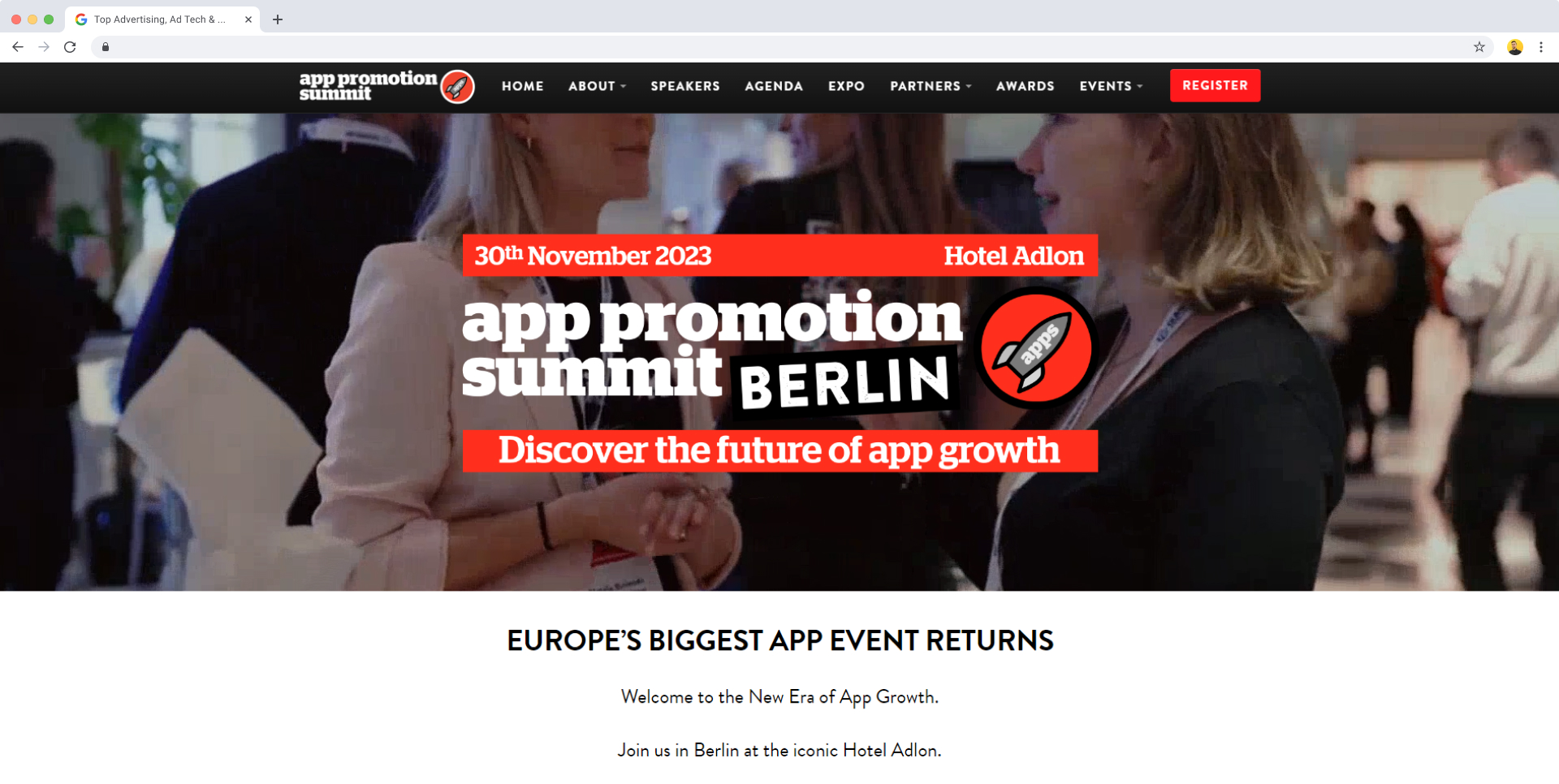 App Promotion Summit Berlin
Step into a world of insights and learning on November 30 as you join us in person. Event creators designed five distinct rooms, each with sessions that delve into the multifaceted landscape of app growth across the entire funnel. Prepare to meet the industry's luminaries, the best in user acquisition, analytics, data, and app engagement platforms and agencies.
Date: November 30
Location: Berlin, EU
December 2023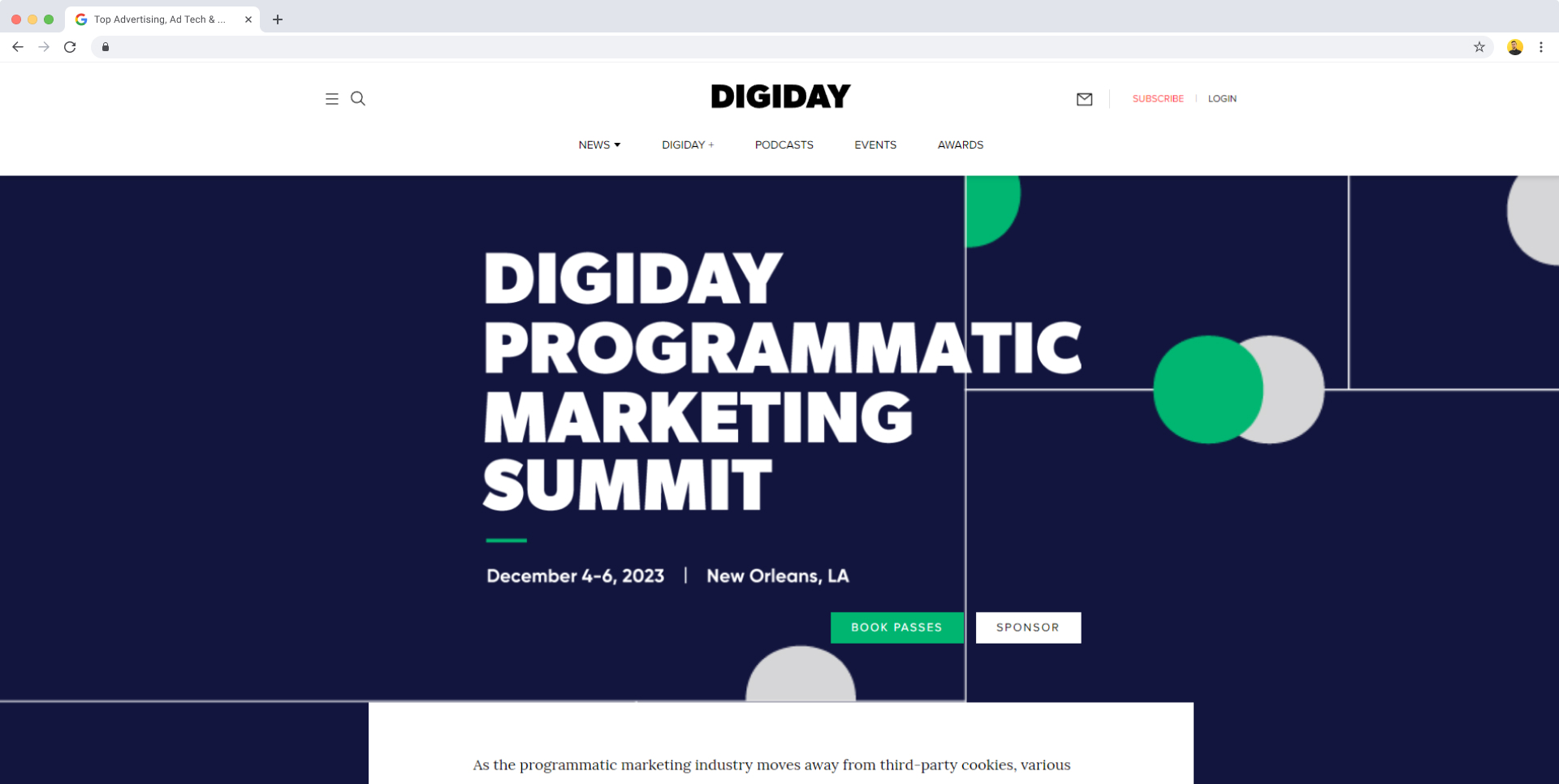 Digiday Programmatic Marketing Summit
The Digiday Programmatic Marketing Summit provides a platform for attendees to be in touch with brand and agency executives, foster collaboration, and address pain points while presenting solutions. Valuable business connections will made through mainstage sessions, town halls, and one-on-one meetings. This event is shaping the future of programmatic marketing through networking and knowledge sharing.
Date: December 4-6
Location: New Orleans, LA
---
As we approach the final quarter of 2023, a wide range of marketing conferences awaits professionals seeking the latest insights and innovations. These events offer unique agendas, distinguished speakers, and valuable networking opportunities. Highlights include the ANA Masters of Marketing Conference, Digiday Summits, Adweek X, NexTech, Convergent TV, PI LIVE Europe, and more. These conferences provide a platform for immersive learning and meaningful connections, ensuring attendees stay ahead in the dynamic marketing world.