A brand's reputation is priceless! It is the result of countless conscious decisions and efforts by marketers and brand managers. And it's very easy to destroy it. Considering modern challenges, it is becoming more and more difficult to ensure brand safety. This article will help you succeed in this difficult test
How Brand Safety Works?
Brand safety is a complex of measures aimed at protecting any business from the information environment negatively influencing the reputation and mission of the brand. It means an exclusion of mentioning the company in content that is contrary to its policies or has an unfavorable context, etc.
Brand safety is essential because it helps to save your reputation. It also guarantees that advertising will be placed on websites with no fraud. In addition, it is potential protection from legal liability associated with the appearance next to prohibited content.
Of course, you could imagine that brand ads and the page context where it is placed are different categories not depending on each other. But, users notice all these moments and this all forms peoples' attitudes to the company. Therefore, it is so important to avoid such content: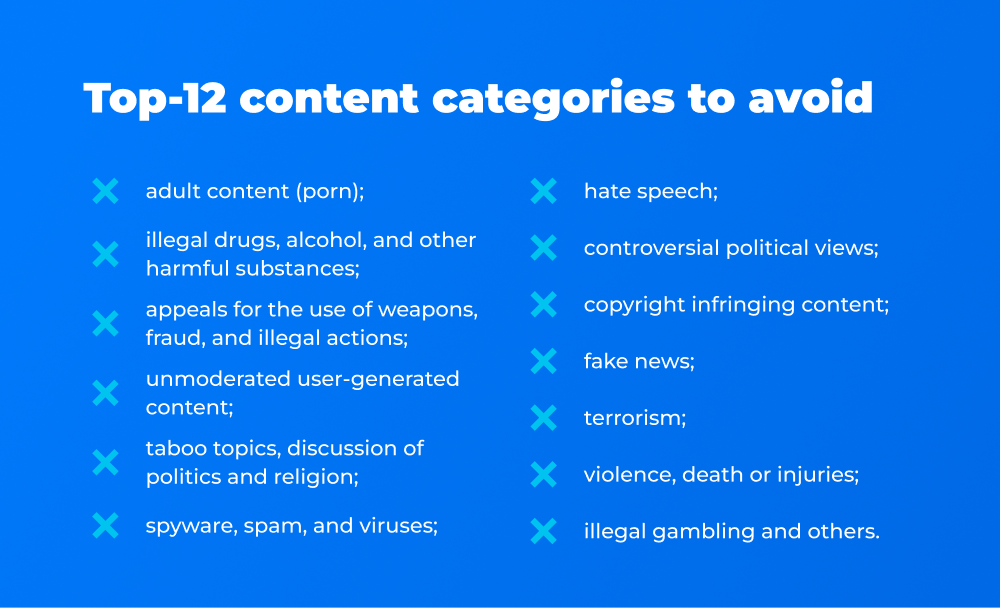 adult content (porn);
illegal drugs, alcohol, and other harmful substances;
appeals for the use of weapons, fraud, and illegal actions;
unmoderated user-generated content;
taboo topics, discussion of politics and religion;
spyware, spam, and viruses;
hate speech;
controversial political views;
violence;
copyright infringing content;
harmful sites;
fake news;
terrorism;
death or injuries;
illegal gambling and others.
That is why marketers work a lot for their company's image and its ads on various placements taking all necessary measures to provide brand safety.
Conduct a control check-up to make sure that your business matches all the brand-safety standards. Before publishing digital advertising campaigns, every marketer should analyze ad quality and its aspects.
Meanwhile, publishers are also concerned with brand safety. They should avoid invalid traffic and bots imitating human behavior. It lowers a website's brand safety. Even if you cannot stop bot traffic completely, you should be able to orient at these metrics and mention the percentage of real traffic.
It is also important to have programmatic partners or brand safety experts among your constant business partners. This will allow publishers to protect their income and reputation.
Main Brand Safety Challenges for Advertising Market
Advertising market players must survive overcoming challenges on their way to brand safety. Here are the top three challenges both advertisers and publishers are facing right now.
Real-World Events
Of course, no one is indifferent about real-world events such as Russian agression against Ukraine, Covid-19, economic downfall, and others. We all read the news and watch videos and are aware of what is happening now. And in such conditions, advertisers are forced to choose whether to associate their brands with the emerging virus, for instance. On the other side, publishers struggle with how to differentiate their content and topic to stop losing revenue.
Fake News
When browsing or searching some information on the Internet, we all come across fake news. And it certainly impacts our attitude toward the brand, which is why advertisers have to struggle with such fakes. It concerns publishers the same way – fake news advertising and low-quality ads can affect publishers' reputations and impact relations with other advertisers that care about their brand safety.
Brand Safety vs Reach
The third challenge is to achieve the balance of brand safety and ads reach. Unlike traditional mass media, following the rules in the digital world is more difficult. Here ads are placed following the target groups, and it's getting more and more automated. As a brand seeks to reach a larger audience, avoiding unfavorable contexts becomes more challenging.
How to Protect Your Brand in Digital? 4 Success Strategies
Everything is not as bad as it may seem. Even considering the events taking place in the world. Make the right decisions and ensure your brand safety. Here are 4 strategies for your success!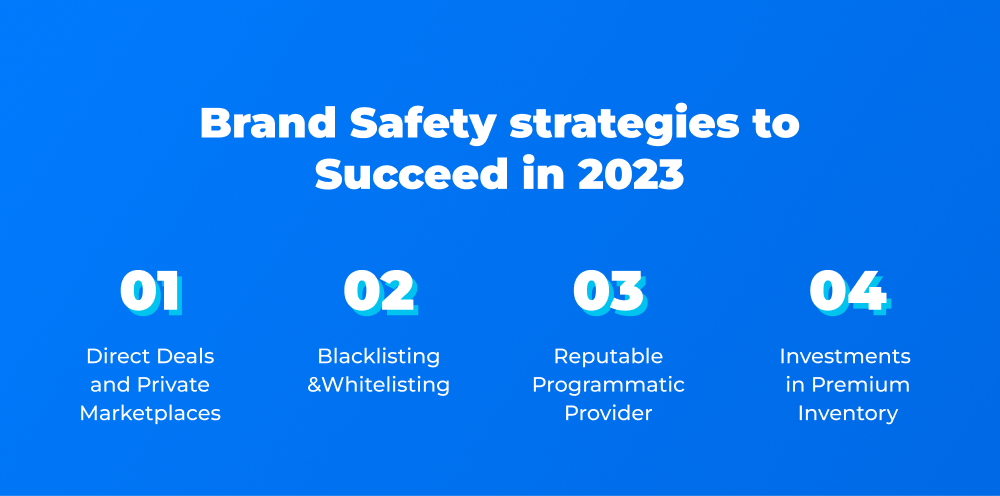 Direct Deals and Private Marketplaces
Direct deals and private marketplaces [PMP] may become excellent solutions to protect your brand. It means you can choose ad partners directly and make decisions concerning the places where your ad will appear. Yes, it is more expensive, but it guarantees a complete absence of any problems with brand safety for both sides of the deal.
Blacklisting&Whitelisting
Using white lists and black lists is one of the simplest ways to maintain brand safety. With the help of a white list, companies can select domains and sites to run their promotions. A blacklist [list of unfavorable keywords], in turn, will help to avoid unnecessary and unprofitable associations.
Premium Inventory
Investing in premium inventory is one more good strategy. This will allow advertisers to easily solve their business tasks. Premium inventories are unified advertising platforms that can be used for this aim. Uniting the inventory with advertising technologies and quality content will help connect the marketers with their key audience on a scale.
Reputable Programmatic Provider
By choosing a reputable advertising partner, you will fix almost all your brand safety problems. It consists of both advertisers and publishers. A reliable programmatic provider uses advanced optimization and content-scanning tools to completely automate and secure your advertising process.
For example, BidsCube Supply-Side Platform and Demand-Side Platform allows you to fully manage your brand safety including whitelisting, blacklisting, enhanced targeting, etc. We also use the latest anti-fraud tools and, more importantly, choose both demand and supply partners among reputable publishers and advertisers. The result is that our clients are sure of their brand's safety!
See how our expertise can help you to earn more
Our tech staff and AdOps are formed by the best AdTech and MarTech industry specialists with 10+ years of proven track record!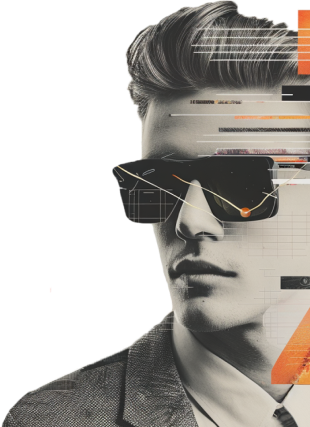 What's next?
Advertisers must be cautious about where users see their ads. On the other side, publishers should check what ads they show.
Brand safety is not a pipe dream. For both parties of the deal, the desire to secure their brand should consist of the same key rules. Collaboration with the right partners, a correct programmatic strategy, and a clear understanding of your brand's meaning are the main components needed to succeed in this difficult test!
Whenever you have questions about ensuring your brand safety, contact us, and we will provide you with the right solution!