Many people have stopped watching linear TV and started paying attention to tablets, smartphones, and PCs. It is more convenient and easier because you can choose programs, films, and TV shows in high quality and with any translation. Services like Netflix or Hulu offer more affordable subscriptions than monthly cable TV costs. However, millions of people are still using small screens daily, and here comes CTV, which refers to advertising delivered via streaming platforms on devices connected to the TV, such as Roku TV, Chromecast, Apple TV, and many others.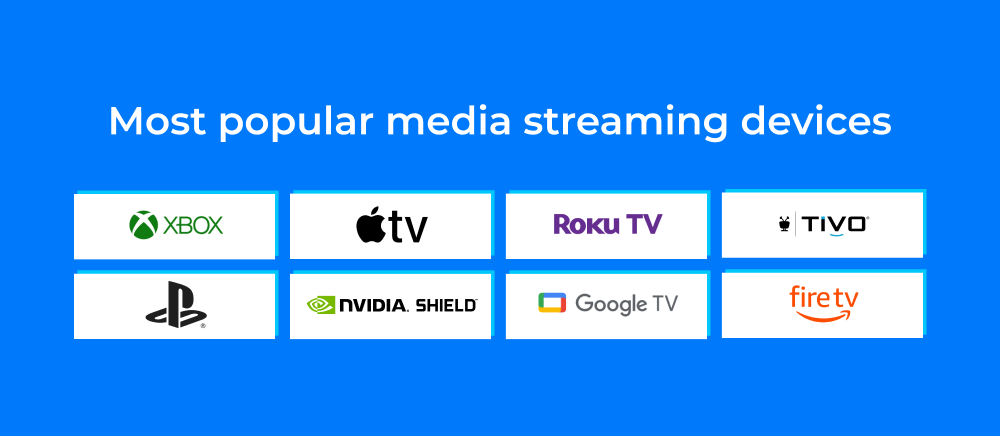 Ad spending on linear TV is falling yearly but growing for connected TV. The forecast anticipates spending will increase to nearly $100 billion by 2026, up from $87.24 billion. The crucial advantages of CTV are already defined: cost-effective campaigns, precise targeting, hyper-localization, relevant ads, and on-the-fly optimization.
But CTV competition is growing. More and more advertisers are starting video campaigns every day. So the key point remains obvious: how to succeed in CTV advertising and grow your brand performance in the changeable CTV world? Let's get to the bottom of the topic and explore five tips to improve connected TV ad performance!
Use QR Codes to Activate the Audience
Of course, the benefits of TV advertising are obvious. But there is a certain minus: the viewers who saw the advertisement and wanted a concrete product can only purchase it after a while, like in web or mobile advertising. They don't have the opportunity to open the company's website, contact the seller and promptly order goods. You can simplify it for the ad viewer. Just add a QR code at the end of your advertisement! Almost every user has a smartphone nearby; people can quickly purchase the desired goods by scanning the code.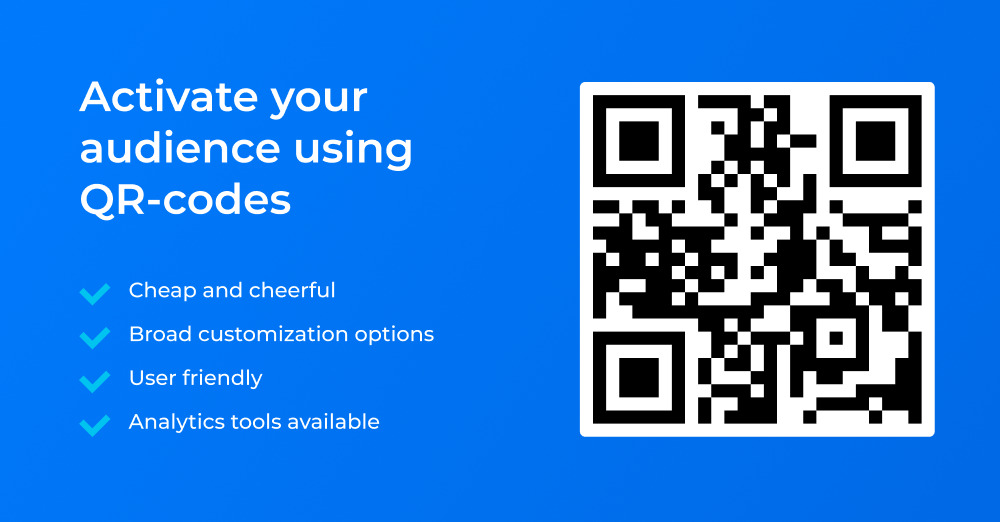 Developing a code is relatively inexpensive for companies that offer their products. Many free and paid generators will help you generate a QR code. Such software offers not only to create a code but to choose its color and add a logo or a frame. You can also track the number of clicks on it and analyze its effectiveness. According to the results of statistics in 2023, Beaconstac's QR Code solution was named the best program for creating a QR code. Second and third places went to QR Code Monkey and Scanova, respectively.
Include CTV in Your Omnichannel Strategy
Any advertising channel becomes more effective if part of a cross-channel promotion strategy aimed at one specific audience. But it is also an excellent opportunity to use data from other advertising channels to increase the effectiveness of CTV advertising:
Use your CRM list to direct your existing customers to new product launches.
Exclude existing viewers to reach new audiences for search campaigns.
Apply user data to target similar consumers and find new prospects.
Collecting, analyzing, and correctly applying information will make it easier for you to organize your data. This way, you can extract useful insights and optimize interaction with your user audience. And CTV advertising in an omnichannel strategy ensures that the valuable data is stored in one place and not scattered across different areas.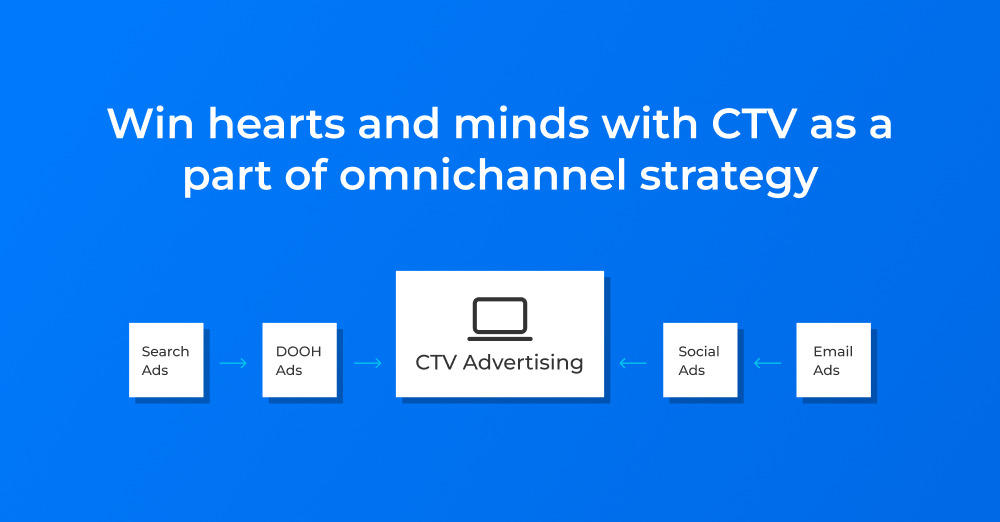 The remarketing method is also effective because such a strategy lets you keep the attention of potential customers interested in the brand and its product.
Design a Unique Narrative for your Campaign
A well-built script directly affects the final effectiveness of your CTV advertising. It is important not just to talk about your offer, although this is the main purpose of advertising. It is necessary to create a portrait of the audience, that is, to show what problems and difficulties consumers have and how your product will help eliminate them. The script should include situations and elements that are close to the audience. Remember that your ad has about 5 seconds to hook the viewer before they press "skip" or change the channel.
Your ways of telling a story and offering a product can create or destroy a CTV advertising campaign. Follow a coherent narrative, whether you have a minute or 20 seconds to share your story. Moreover, you can create several different advertisements connected in one story and show these ads to the customers in the needed query to convey the idea of the entire campaign even more effectively!
The potential buyers must understand your message; it must be simple and memorable. Making viewers interested in your call to action (CTA) is important. There are various ways to complement your narrative. This is visual effects, voice-over, sound effects, or dialogue.
Make it Actionable
A certain group of advertisers can repurpose linear advertising for CTV. But the important point is that the format and the possibility of personalization can allow much more. Make a few small changes to your ad, and you'll see how much more effective it becomes. Specific settings include an exact call to action, ideally permanent.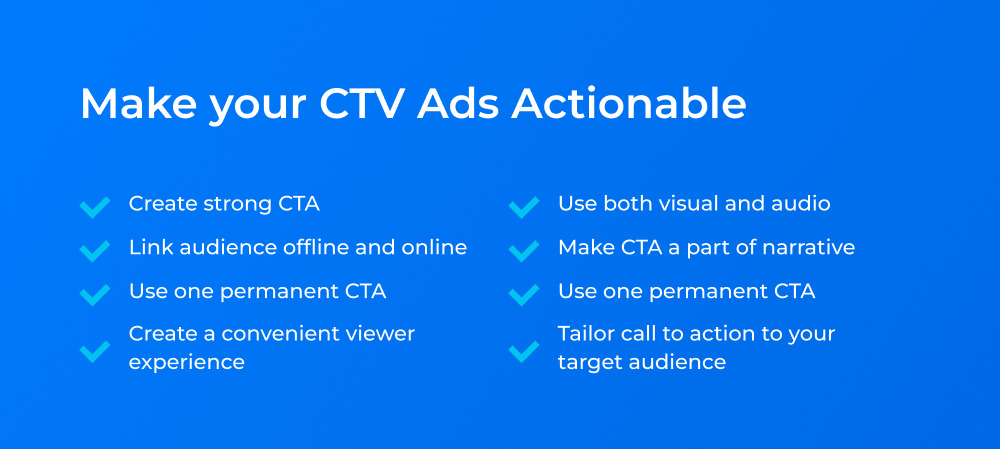 Such a CTA should suit not only your goals but also the preferences of your audience of viewers. For instance, the age group of people under 50 is more comfortable using the QR code. It allows you to extend the life of your TV advertising by allowing users to "freeze" or lock in their "click" before the show ends.
Remember to take into account the location of the viewer. For example, if you sell retail products, link them offline and online. It will help you promote what people can find and buy on the shelf at the local store.
Use Sound to Your Benefit
If advertisers use banners for mobile devices or PCs, then banners are silent. However, external and embedded video ads may have audio automatically muted when shown. The user can turn the sound on or off if they want. Of course, there is no guarantee that the viewer will turn on the sound or turn up the volume enough to understand the meaning of the advertisement. There is no such problem for the CTV ads. They always remain unmuted. Use audio to your advantage by adding layered captions to video ads. Dialogues, sounds, and music guarantee that the audience will hear the voice of your company and product.
Audio accompaniment gives you the ability to control how viewers remember your company. Your goal is to reinforce positive emotions when mentioning your brand. Selecting the suitable sound is the first part; the second is deciding how you would apply it to improve your advertising. It may be nice music that stops at the end of the video to create a calm and reassuring atmosphere for the viewer. If there are dialogues in the advertisement, then there should be some quiet music not to distract the viewer. The sound should complement and emphasize the feelings you want to evoke in your viewers.
See how our expertise can help you to earn more
Our tech staff and AdOps are formed by the best AdTech and MarTech industry specialists with 10+ years of proven track record!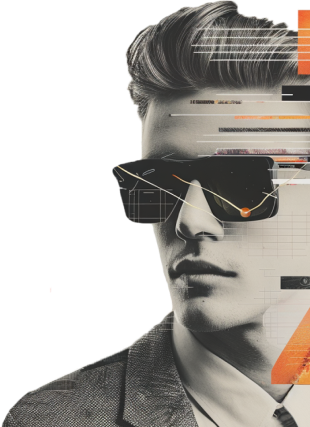 What's Next?
CTV advertising gives more precise targeting and more accurate audience selection. Your ad can reach specific viewers, improving the performance and quality of your campaigns, which helps make them less costly.
Use the improvement tips in this article and start running even more effective campaigns to increase your brand's performance! If you seek a full-featured advertising platform, pay attention to BidsCube DSP. We help our valued advertisers to make the most of every impression!
This Article's Ad Tech terms